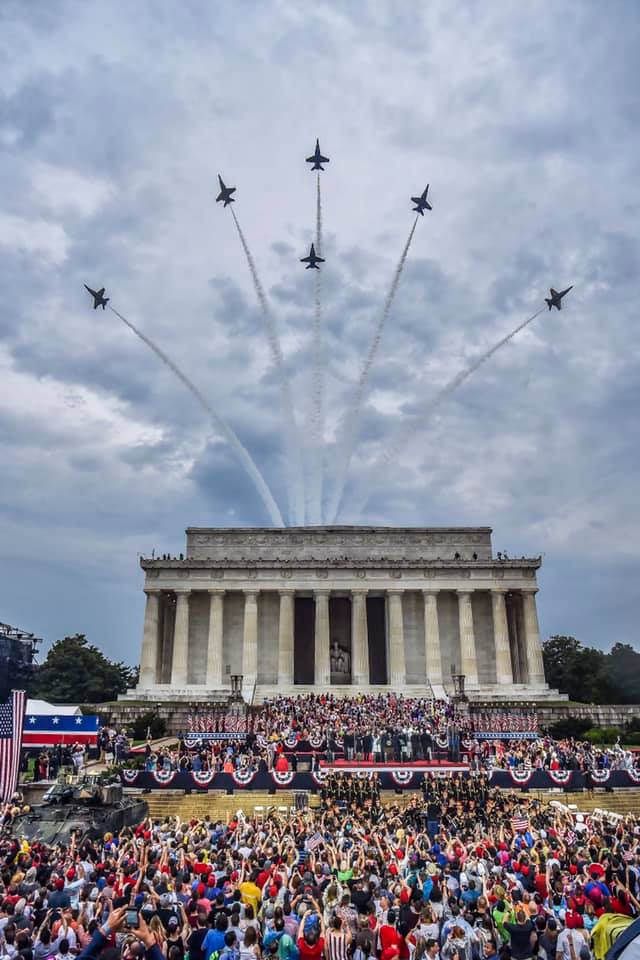 This past Fourth of July, as part of President Donald Trump's "Salute to America" celebrations, the U.S. Navy Blue Angels and more performed flyovers on the National Mall to honor all branches of the U.S. Armed Forces.
Although ominous skies threatened the event's flyover schedule, the show commenced with a flyover by Air Force One and was able to carry on with the scheduled flyover demonstrations.
The event then was sequenced in structured formations to honor each branch of the armed forces. Formations included a B-2 stealth bomber and two F-22 Raptors for the U.S. Air Force, two AH-64 Apache helicopters for the U.S. Army, the HH-60 Jayhawk and HH-65 Dolphin rescue helicopters for the U.S. Coast Guard, two MV-22 Ospreys and the new VH-92 Marine One presidential helicopter for the U.S. Marine Corps and two F-35C Joint Strike Fighters and two F/A-18 Super Hornets in a diamond formation for the U.S. Navy.
For the finale, the U.S. Navy Blue Angels appeared for a formation pass over the National Mall followed by the team's signature "Delta Breakout" maneuver from behind the Lincoln Memorial.