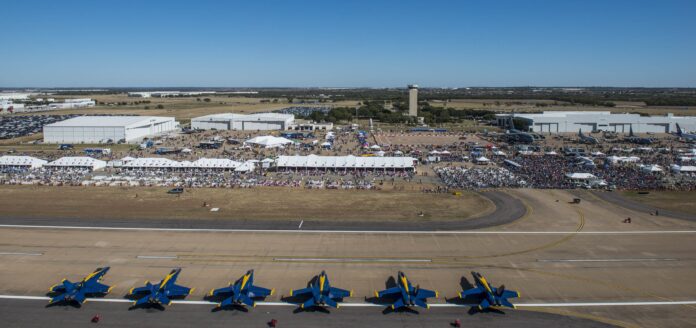 Nothing has affected the modern air show industry as widely and as negatively as COVID-19, forcing widespread cancellations and changing the entire fabric of an experience that is predicated on mass gatherings of people.
As we look ahead to the later summer and early fall months, it's impossible to predict with certainty what the infection and transmission landscape will look like, and the regulations and public safety guidance that will follow. But one thing is for sure: if there is a path to offering people a safe air show experience, this industry will find it.
For your consideration: the drive-in air show. Rooted conceptually in successful drive-in music concerts in Denmark and California, it's a model that might work for your show site.
"The goal is to give you things to think about, not make decisions for you," said ICAS President John Cudahy as he welcomed members to a recent ICAS webinar where several air show event organizers and support service providers summarized a number of different considerations for drive-in air shows.
"Nobody in the air show business wants this to become permanent," said Cudahy. "This should not be seen as a replacement to a traditional air show, but a replacement to no air show at all."
Cudahy noted it won't be suitable for every venue. And the events would necessarily be much shorter in duration than a normal air show since the expectation is people will stay in or near their cars with minimal movement. As presented by the webinar panel, here are some of the facets of planning a drive-in air show.
FAA/ACC
"The FAA says there is no difference, as long as you meet the same setback distances," said ICAS Vice President Dan Hollowell. "And for Aerial Combat Command, once the Pentagon lifts its travel ban, we expect them to reengage, participate, and support these types of shows."
TICKETING
The key here is simple with as little human interaction as possible.
"You can still generate revenue," said John Haak with EventSprout ticketing. "The big thing is one ticket per carload. Don't try to sell a ticket for every person."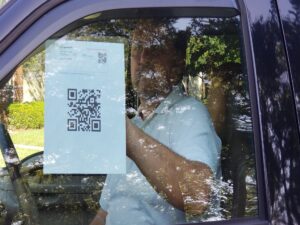 Instead of a standard ticket, make the bar code or QR code take up the entire bottom half of a full sheet of paper. "If you do that, [your volunteers at the entry gate] should be able to scan it from almost ten feet away," said Haak.
Also, offer an easy-to-use option for people who show up without a ticket. Make sure your customers can buy a ticket with their mobile phone and get members of your "scan team" to move with the cars to finish the sale and scan so that traffic continues to move.
"There are many ways you can do this," Haak said. If you're a show with a less sophisticated ticketing system, you can tell customers you'll scan tickets, so people bring them, but then simply visually confirm them.
But what about your customers who already purchased tickets before the pandemic?
"You are not providing them the product you said you were," notes Kevin Walsh with Thunder Over Michigan. "There are a lot of changes. You might not have the acts you said you were going to have, and there are no statics." Walsh also points out — that if the date of your event changes — consider that a change in the contract and you'll want to consult your attorney.
"We will make it right with our fans, if we embrace this model, by offering the next two years of the show as a comp if they already purchased tickets," said Walsh. "Think about the long game. The comps are easy to budget for in future years. Refunds are harder."
PARKING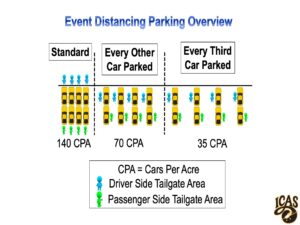 "You typically park 140 cars per acre," said Jeff Shapiro with Solutions Event Services. "But with [the drive-in air show concept], you have two options.  [You can park] 70 cars per acre which is every other space left open or 35 cars per acre with every third-row parking cars."
Shapiro suggests staggering "tailgating" areas between passenger and driver side to further meet CDC social distancing guidelines, and dedicating bathrooms to specific columns of cars to keep fire and exit lanes free of people. He also suggests anticipating large vehicles; know ahead of time where you will put them to keep them from blocking the view of cars and people behind those large vehicles.
"You do have to think outside of the box for what you can do, but it can be done in this extreme situation," said Shapiro.
LOGISTICS
"While we all may have to change our revenue expectations for this year, get ready to dramatically cut your expenses and set up time," said Darcy Brewer with the California Capital Air Show. "You must set expectations via ample, clear, and easy to read and understand signs in order for your event to run smoothly."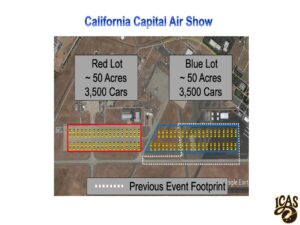 She also suggests having a plan for securing your hot zone and aircraft movement area, crowd lines, taxiways, and set aside parking areas for any dignitaries you might have in attendance, since there won't be any hospitality tents or chalets.
"Consider a text-for-info number for your guests to ask questions or request non-emergency assistance," Brewer said. "For hand sanitizing and handwashing stations, garbage cans, and bathrooms, consider how to best strategically place those items and use chalk paint to mark spaces if people need to be distanced in line."
Offer volunteer trainings and Q&A sessions via webinars. "The jobs you will have for those volunteers will be the jobs that are usually the last ones people raise their hands for, so let them know how critical their role is. You may need more radios or dependable communication devices for them, masks, safety vests, and more cleaning supplies than ever before. But this can lift the community's spirit and be an important part of recovery," said Brewer.
A consideration with no simple solution is people running their engines on grass or asphalt. If you mow the fields and request the fire department's assistance with watering, that will help mitigate, but won't eliminate the risk of a grass fire. And running engines for two hours on hot asphalt will likely create issues for the cars and the people downwind of them.
"Also, check with your insurance company," Cudahy noted. "There is less risk of someone getting hit by a golf cart, but there is potentially more risk of a grass fire or fender bender."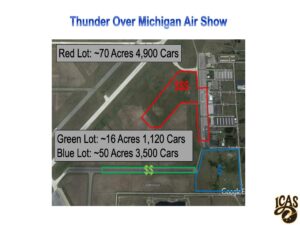 "If you are considering this approach, model yourself after the drive-in theaters," said Walsh. "Are they allowing concessions? If so, make sure your concessionaires understand the time crunch. This will be a shorter show because there is no ground element or statics," said Walsh.
If you don't have concessions, you need to set ground rules about what people can bring. This is not a traditional tailgating experience, but people may assume it is. Be clear there are no BBQs or alcohol allowed.
"You are going to want to involve your local public health officials. Don't catch them off guard with this idea. We're proposing that your biggest transmission health risk is your washrooms," said Walsh.
SOUND
"By themselves, traditional speakers won't work with the cars parked as they are," said Adam Glowaski with ICAS. "Use a series of small FM transmitters to push a signal to vehicles, but make sure you check with your local authorities about the legality of doing so as it varies by area."
Glowaski also suggests making a deal with your local radio station. "You can generate greater sponsor involvement that way and reach more people."
MARKETING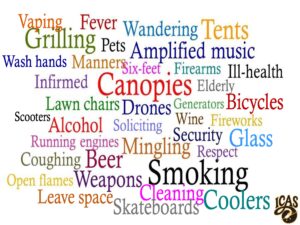 "Since this is such a unique concept and it's so new, your marketing is going to start from an internal perspective," said Kim Dell with the Cleveland National Air Show. "You need to talk to your board, volunteers, and your sponsors and exhibitors. You need to explain why you're doing it."
Dell also suggests one-on-one conversations with sponsors offering them amenities like premium parking spots.
For your public-facing marketing efforts, Dell says consider renaming the event or creating a new logo, making it cool and different. "Your marketing needs to reflect that this event is going to be socially responsible. Promote your health and safety protocols you're going to have," said Dell. "Position this event as a goodwill event at warp speed; this can lift the spirits of the community."