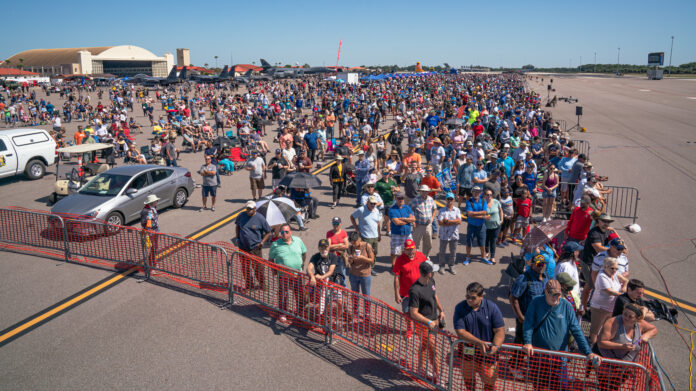 The music industry has increased its concern to ensure they are paid when copyrighted music is played. Therefore, the United States Air Force requires that any U.S. air show (civilian or military) hosting an Air Force aircraft demonstration that includes music (except as noted in the fifth paragraph below), must secure the necessary music licenses for broadcast of pre-recorded copyrighted music over public address speaker systems.
Effective immediately, ICAS is issuing music licenses for ICAS member air shows for all three U.S. music licensing organizations: ASCAP, BMI, and SESAC.
ICAS has finalized agreements with ASCAP, BMI and SESAC that allows ICAS to conduct virtually all the administrative work associated with securing the three music licenses. And ICAS can secure these music licenses for member shows at a price that is lower than air shows can secure them on their own, and significantly lower than U.S. shows would have paid this year.
This new initiative by ICAS was prompted by a decision earlier this year by one of the U.S. music licensing organizations to change the method by which music license fees are calculated. That change would have dramatically increased the fees U.S. air shows pay to that organization. Instead, ICAS stepped in to negotiate a much lower flat fee for ICAS members only. And, having gone that far, we decided to make it both easier and less expensive by packaging all three U.S. music licenses together.
Each ICAS member air show is eligible for a single package of the three music licenses for one air show at the cost of $875.
And getting music licenses this year couldn't be simpler. If you would like to secure your music licenses through ICAS, just send an email to connors@airshows.aero to tell us. That's it. We will then send you a single invoice for $875 that is due and payable within 30 days. If you have already paid for any of the required music licenses this year, and your event has not taken place yet, they will issue refunds at your request.
If you decide not to participate in this new ICAS program, you may continue to secure your music licenses through ASCAP, BMI and SESAC individually. But be forewarned that the ASCAP fees will increase significantly if you are not an ICAS member and will include a base fee plus either a percentage of your gross ticket sales or a percentage of the money you spend on your air show performer fees. In all cases, if you go it alone, your ASCAP fees will be dramatically higher than those negotiated by ICAS on your behalf. And the BMI and SESAC fees will be the same as those being charged by ICAS in this package program.
These rates are not controlled or negotiated by the USAF and are subject to change. (Note: this rate applies only to music broadcast over the public address system during the air show portion of the program and does not provide the show with the right to use pre-recorded music at concerts or other non-air show special events held in conjunction with the air show.)
Each event organizer should secure music licenses from ICAS and provide proof of licenses to the teams NLT 30 days prior to the event to allow for rescheduling.
No music license is required for the song, "We Remember," which is played during the Heritage Flight performance.
TO CONTACT THE MUSIC LICENSING AGENCIES DIRECTLY:
a. For BMI licenses, contact Kim Monaghan, Senior Director Customer Relations, General Licensing, BMI, 10 Music Square East, Nashville, Tennessee 37203, Phone: 615-401-2871, Email: kmonaghan@bmi.com. Visit their website at www.bmi.com
b. For ASCAP licenses, contact Pam Gibson, Senior Business Development Specialist, ASCAP, PO Box 331608, Nashville, Tennessee 37203-7515, Phone: 888-653-1024, Email: pgibson@ascap.com. Visit their website at www.ascap.com
c. For SESAC licenses, contact Nate Williams, Licensing Team Lead, SESAC, Inc., 35 Music Square East, Nashville, Tennessee 37203, Phone: 615-963-3532 Email: nwilliams@sesac.com. Visit their website at www.sesac.com