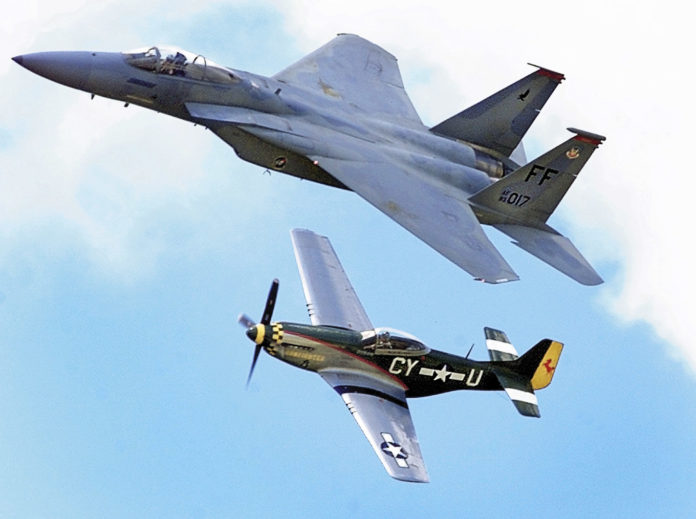 I recently had the privilege of attending the U.S. Air Force Heritage Flight Training Course (HFTC) at Davis-Monthan Air Force Base in Tucson. For three full days, a small cadre of Air Force pilots in contemporary jets (A-10, F-16, F-22, F-35) trained to fly dissimilar formations with an equally impressive, museum-quality fleet of warbirds (P-38, P-40, P-47, P-51, F-86) in nearly every conceivable combination of two-ship, three-ship and four-ship configurations.
The first Heritage Flight of the U.S. Air Force was conducted in 1997 at Nellis Air Force Base as part of events commemorating the 50th anniversary of the Air Force. By 1998, the program was greatly expanded and offered at dozens of shows all over the United States and Canada. At its peak, the Heritage Flight was flown at nearly 250 different air shows each year.
In 2010, following Air Force budget cutbacks that threatened to end the Heritage Flight program, ICAS member and warbird operator Dan Friedkin stepped in to form the Air Force Heritage Flight Foundation, fund the civilian portion of Heritage Flights, and provide long-term stability to the program. And, since the cancellations and additional budget cutbacks prompted by sequestration in 2013, the Air Force has steadily increased its commitment. Last year, the Air Force included the F-35 Lightning II in Heritage Flights for the first time. This year, the Air Force announced that it would once again fly the A-10 in Heritage Flights throughout the country in 2017.
In most years since the first Heritage Flight at Nellis in 1997, the air show season for Heritage Flight pilots has begun with a mid-winter training course at Davis-Monthan AFB. This program provides new Heritage Flight pilots (both civilian and military) with an opportunity to learn more about the challenges and nuances of flying state-of-the-art, fifth-generation fighters flying in close formation with vintage military aircraft.
And it was a sight to behold. A P-38 Lightning flying nearly a dozen passes in formation with an F-16 Viper and A-10 Warthog. A P-47 Thunderbolt and P-40 Warhawk on either side of a brand-new F-35 Lightning. The low growl of a Merlin engine as a Mustang takes off, followed almost immediately by the twin-engine roar of an F-22 rotating and climbing vertically at show center. From nine in the morning until six at night on three consecutive days, it was air show Nirvana.
But it was also much more than that.
This gathering of talented pilots and extraordinary airplanes constitutes a significant commitment to the air show business. At a time when the U.S. military is fully engaged in no-kidding combat in multiple theaters all over the world, the U.S. Air Force did not just reaffirm its confidence in the Heritage Flight; it expanded its involvement with the addition of the A-10 and many more scheduled Heritage Flights during the 2017 air show season.
This year's Heritage Flight Training Course was also a clear indication that the Air Force believes air shows can be a very effective tool for communicating its messages. During one of the briefing sessions, there was an Air Force four-star general, a lieutenant general, a major general and two brigadier generals in attendance. Do we need any clearer indication that this program matters to the Air Force or that it is an effective tool in helping the Air Force to communicate its recruiting and public affairs messages?
For me, the Heritage Flight Training Course further clarifies the critical need for professionalism above all else in our business. Beginning with a 7:00 a.m. briefing each morning and ending with a 90-minute debrief in the evening, the Heritage Flight pilots reminded all of us that there is always room for improvement. Some of the most talented civilian and military pilots on the planet practiced all day and then critiqued each other on how they might be even better the following day. In an environment as unforgiving as the air show aerobatic box, that's an important lesson to remember.
It's inspiring. For me, even after 20 years, watching these carefully preserved and maintained World War II aircraft flying just a few feet away from these extraordinarily sophisticated jet fighters is an emotional moment. It's also an important reminder that our events are more than simple entertainment. As an industry, we have the ability to motivate, influence and affect our audiences at a deeply personal level…not just the members of the Heritage Flight program, but all of us who organize, operate and perform in air shows.
And the Heritage Flight Training Course is also an unmistakable sign that the air show season is just around the corner. We've already had one air show in California and two in Texas. As I write this, we're less than a month from the first performances of the Blue Angels and Thunderbirds at El Centro and Titusville, respectively.
So, as we begin the 2017 air show season, let's take a moment to recognize and celebrate the 20th anniversary of the U.S. Air Force Heritage Flight. And let's also celebrate our collective ability to provide the kind of venue that these talented pilots require to present this unique brand of aerial entertainment to millions of air show spectators every year.