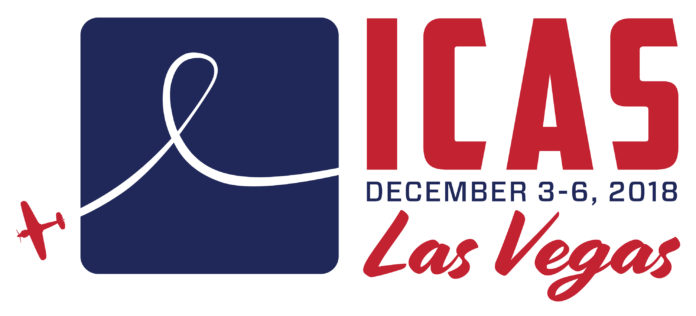 Nearly 1,600 air show professionals gathered at the Paris Las Vegas Hotel last week for the 2018 ICAS Convention to unofficially complete the 2018 air show season and continue preparation for the 2019 campaign.
"Total attendance was 1,583, which got us very close to the record of 1,605 set in 2002," said ICAS President John Cudahy. "But, even more than the increase in attendance, we were pleased by the activity on the exhibit hall floor and a sharp increase in the number of event organizers attending our event."
The ICAS Convention saw overall attendance increase by 12.1% from 1,412 in 2017. U.S. delegates constituted 89.7% of convention delegates, with Canadian representation at 8.5% and non-U.S/Canadian participation at 1.8% (including delegates from Austria, Belgium, Brazil, China, the Czech Republic, Spain, France, Great Britain, Japan and South Africa).
As part of the overall increase in attendance from 2017 to 2018, ICAS welcomed an additional 110 delegates who identified themselves as "event organizers." This represents a 16.9% increase among those generally recognized to be the "buyers" at the ICAS Convention, an increase that was reflected in more business being done in the exhibit hall.
The 2018 ICAS Convention also included an increase in the number of military representatives participating in the event, an indication that the problems generated by Sequestration for the air show community in 2013 have been just about completely reversed.
The 2019 ICAS Convention will be held at the Paris Las Vegas Hotel in Las Vegas, Nevada from Monday, December 9 through Thursday, December 12.