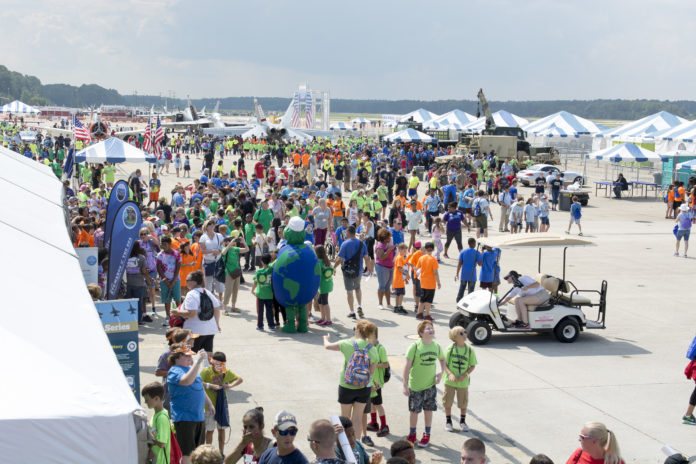 On Monday, July 23, Naval Air Station (NAS) Oceana and Virginia Beach City Public Schools (VBCPS) received the Exemplary Individual Project Partnership for the 2018 Pete Taylor Partnership of Excellence Award for the annual Science, Technology, Engineering and Math (STEM) Lab Learning Day held at the NAS Oceana Air Show.
The award, which is presented to school-military partnerships that work to foster learning in the community, was presented at the Military Child Education Coalition's Annual National Training Seminar in Washington, D.C.
Last year's STEM Lab Learning Day marked the second consecutive year that the NAS Oceana Air Show welcomed over 5,000 Virginia Beach Public School fifth grade students and teachers to learn about STEM careers and aviation. This programming provides young students the opportunity to meet with STEM leaders throughout the military and in the community, including U.S. Navy pilots and support personnel.
This year's STEM Lab Learning Day will take place on Friday, September 21, as NAS Oceana celebrates its 75th anniversary. For two hours, the students will visit various STEM program displays around the air show and then they will be on hand for the U.S. Navy Blue Angels practice flight later in the afternoon.
The NAS Oceana Air Show will take place on Saturday, September 22 and Sunday, September 23.