While most writers use a pen and paper, Nathan Hammond wields his 1956 de Havilland Chipmunk "GhostWriter" to write messages that span ten miles across the sky. Now, with over 20 years of skywriting and aerobatic experience, Hammond is beginning his second year as GhostWriter Airshows and bringing his day, night and skywriting performances to air shows across North America.
"We call ourselves a three-act performance. We are three acts with one airplane," Hammond says. "The first is the skywriting." Hammond's skywritten messages range anywhere from promoting air shows and sponsors to drawing crowd-pleasing smiley faces and hearts. "It's a 45-minute roller coaster ride that doesn't stop," Hammond says. "You can't write the first four letters of 'hello' and then stop."
Throughout an entire show weekend, Hammond promotes both the air show and his sponsors with skywritten messages that include the word "airshow" and the names of his sponsors.
"We will show up on a Thursday and create the largest billboard on which to advertise the air show: the sky," Hammond said. "We will do two to three hops of skywriting in the morning and then do two to three hops during the air show."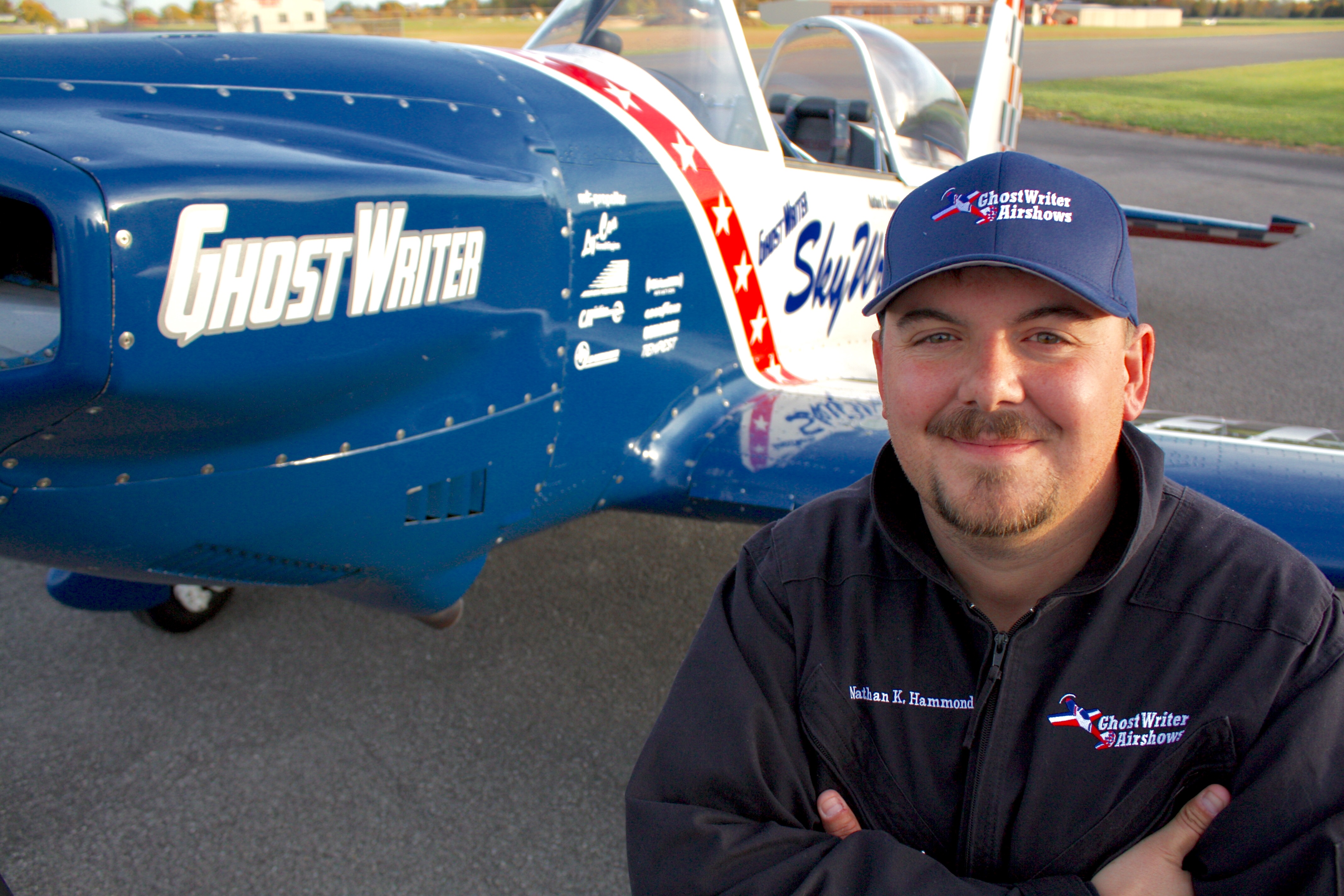 Hailing from Rhinebeck, New York, Hammond began skywriting in 1998 when he joined Steve and Suzanne Asbury-Oliver's SkyDancer air shows. Occasionally filling in for Oliver, Hammond came to learn Oliver's aerobatic routine, the inner workings of his "Pepsi SkyDancer" Chipmunk, and the rare skill of skywriting.
"Skywriting is kind of a magic trick," Hammond says. "We go out there and we don't tell people how to do it."
In 2016, Hammond obtained Oliver's well-known Chipmunk and spent 3,000 man-hours over the next two years to turn it into a Super Chipmunk. The aircraft now has a cruising speed of 150 mph and can climb at a rate of 2,500 feet per minute.
In addition to his skywriting, Hammond performs a day routine of smooth aerobatics and smoke, as well as a night performance with pyrotechnics.
"Come air show time, we are a great opener," Hammond said. "For 12 minutes, it's a good ol' barnstorming, barn-rolling performance."
Hammond's 2016 updates also increased the Chipmunk's ability to house and utilize pyrotechnics during his night performances.
"In 2016, I completely rebuilt our pyrotechnic system. We revamped the entire system so we can carry more in a cleaner way," Hammond said. "We are now carrying twice the pyro that we used to, which gives us about eight minutes of pyro."
Hammond is planning to bring his three-act performance to a number of shows in 2018.