With only the occasional show able to move forward during the bulk of 2020, several late-season shows have been able to recalibrate enough to hold their events in the final few weeks of the season…providing a foundation on which to build in 2021 and some important "lessons learned" for event organizers contemplating their options during the off-season, especially during the ICAS Virtual Convention in December.
Edwards Air Force Base – Aerospace Valley Hybrid Air Show, October 5-10
Designed as a week-long event, Edwards Air Force Base utilized a virtual component to grow their scheduled air show's potential reach. Switching to a "hybrid" show back in June, organizers worked to develop a week-long event that included eight hours of STEM content each day. With programming that was targeted to specific grade levels, schools and students across the country could engage in various activities suited to them and presented by subject matter experts. Regional schools were able to also take part in the physical aircraft fly-overs that took place on Friday and Saturday in the communities surrounding the base.
Wings Over Houston, October 9-11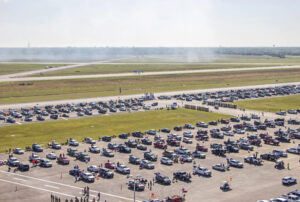 Getting approval to hold their drive-in event just a few weeks prior to the scheduled event, Wings Over Houston had a lot of ground to make up in a short time, but organizers were up to the task. Other than the hurricane that canceled the show on Friday, the rest of the weekend proceeded without a hitch. The Saturday and Sunday shows featured a clear blue air show sky and many civilian acts, as well as military. Specifically, Wings Over Houston was the first United States joint appearance of all four U.S. Air Force ACC demo teams. With approximately 1,400 vehicles on site each day, each with up to six passengers, the show was the first major event for the Houston area in many months, and audience members were treated to an entertaining weekend of flying.
Bell Fort Worth Alliance Air Show, October 17-18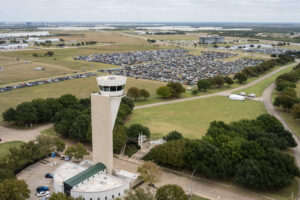 Featuring the U.S. Air Force Thunderbirds, the first drive-in air show for North Texas is was conducted at the Fort Worth Alliance Airport. As the 30th anniversary edition of the show, the drive-in event offered access to 2,000 vehicles each day, and the show announced early on the wee of the event that general admission tickets for the entire weekend were completely sold out. The weekend show feature multiple military single-ship demo teams and civilian performers. Spectators were required to wear a mask when outside of their vehicles, and much like other drive-in shows, there were no static displays. "In addition to the jaw-dropping aerial performances, we're focused on creating a family-fun and engaging environment that guests can only experience at the air show, including a free swag bag, parade, and picnic-like setting," said Christina Carey, director of special projects for Alliance Air Productions.
Wings Over North Georgia, October 24-25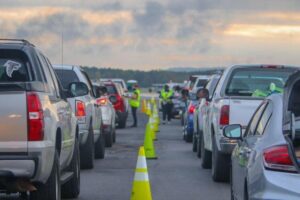 In Rome, Georgia, the Wings Over North Georgia Air Show featured the USAF Thunderbirds, along with a large cast of military and civilian performers, as the North American air show community moved toward the conclusion of its challenging 2020 season. Promoted as "Georgia's Premier Tailgate Party," the show sold tickets for a 10′ x 20′ car parking space, along with another adjacent 10′ x 20′ private space for tailgating and viewing. Guests were allowed to bring chairs, tables, food, and non-alcoholic beverages on-site to enjoy during the show. Receiving authorization to hold the event by state and local public health and regulatory authorities back in August, the event had been gearing up for a potentially sold-out show as fans look to find outdoor entertainment options. "We believe this is the 'shot in the arm' our community needs right now, especially during the fall, one of the most beautiful times of the year in our area," said John Cowman, president of JLC Air Show Management, the organizers of the show.
Lockheed Martin Space and Air Show, October 31-November 1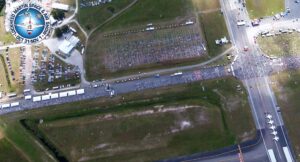 Over the Halloween weekend, the Orlando Sanford International Airport hosted the U.S. Air Force Thunderbirds; ACC F-22, F-35, A-10 and F-16 single-ship demos and a multiple civilian performers for the Lockheed Martin Space and Air Show. Operating under a comprehensive "stay safe and separate" COVID protocol, the show provided members of the air show community with a good look at what air shows may look like in the early days of the 2021 season. Although the show took multiple steps to minimize transmission of the COVID virus, the show was offered as a traditional airport air show, not a drive-in event.
Stuart Air Show, November 7-8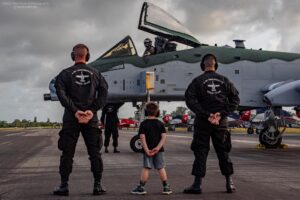 On Veterans Day weekend, the skies over southeast Florida were be filled with five military jet demonstration teams, along with multiple civilian performers. Featuring air and ground acts in front of a more traditional and socially distanced crowd, the show utilized comprehensive COVID safety protocols put together by leading local health professionals and state health officials. Mask wearing was required when audience members are unable to socially distance, payments were cashless, and sanitizing stations were available throughout the grounds. Unfortunately, the show had to cancel the bulk of their Sunday lineup due to high winds and rain spawned from an oncoming tropical storm.
Fort Lauderdale Air Show, November 21-22
Just two weeks before the 2020 Virtual ICAS Convention, Air Combat Command's four single-ship demos – the F-22, the F-35, the F-16 and the A-10 – took center stage for the last major show of the 2020 North American air show season. Featuring socially-distanced "sand box" seating arrangements and VIP chalets re-engineered to reflect the realities of the pandemic, the waterfront-based Lauderdale show was rescheduled from its original early May dates and reorganized to be in compliance with Florida public health restrictions and guidance.
ICAS MEMBER PILOTS HOLD PRACTICE AND EVALUATION SESSION
In mid-October, several air show performers – including three ICAS Aerobatic Competency Evaluators (ACEs) – scheduled an informal, practice and evaluation session for pilots working to sharpen their skills and ACEs were available to evaluate other pilots for the renewal of their Statement of Aerobatic Competency cards. Held on Saturday, October 17 at the Henry County Airport (KHMP) in Hampton, Georgia, the aerobatic box was available to performers throughout the day.
Like a similar session held in the spring, the session intended to provide open, honest critique on performance, safety and entertainment value. Unlike the previous event, this time, non-pilots (announcers, air bosses, ground support personnel and event organizers) were also invited to attend. Coordinated by ICAS member Nathan Hammond, the experience was considered a huge success and organizers look forward to possible future events next year.