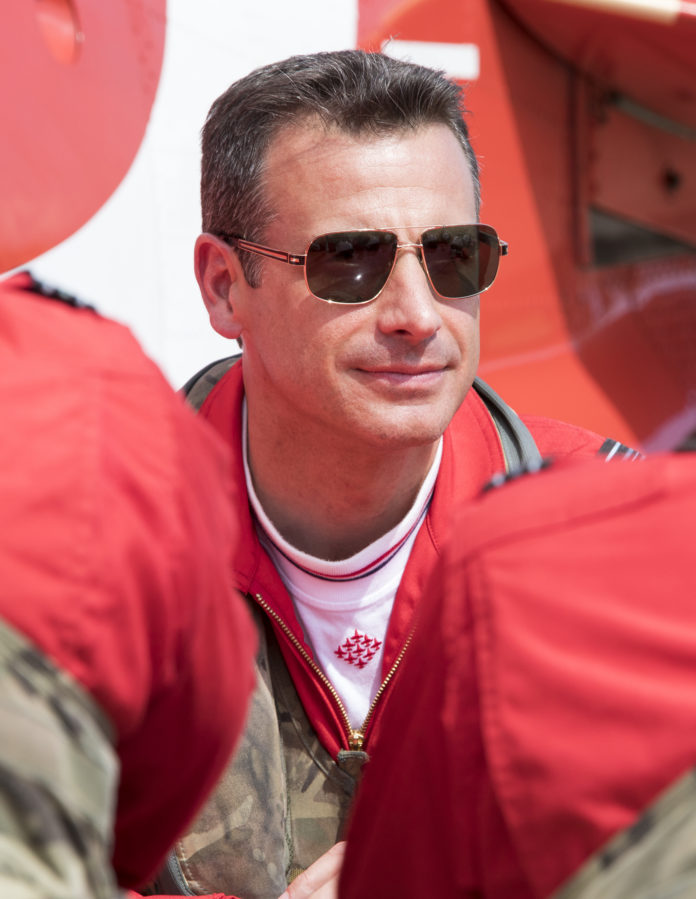 With a highly-anticipated North American summer tour on the horizon, the Royal Air Force Red Arrows demonstration team are well into winter training and planning out their upcoming air show season. For Red 10, Squadron Leader Adam Collins, the off-season is filled with overseeing the winter training of the opposing solos as well as coordinating logistics with both regulators and show organizers for the 2019 season.
Collins is a graduate of Southampton University where he studied aeronautics as well as being a member of the University Air Squadron where he flew the Bulldog. Since completing fast jet flying training, Collins has completed tours flying the Tornado GR4 at RAF Marham, the F-111 for three years on exchange with the Royal Australian Air Force in Queensland, the British Army as an Air Staff Officer and with the 100 Squadron, where he flew the Hawk T1. Collins would go on to join the RAF Red Arrows in 2018 as the team supervisor.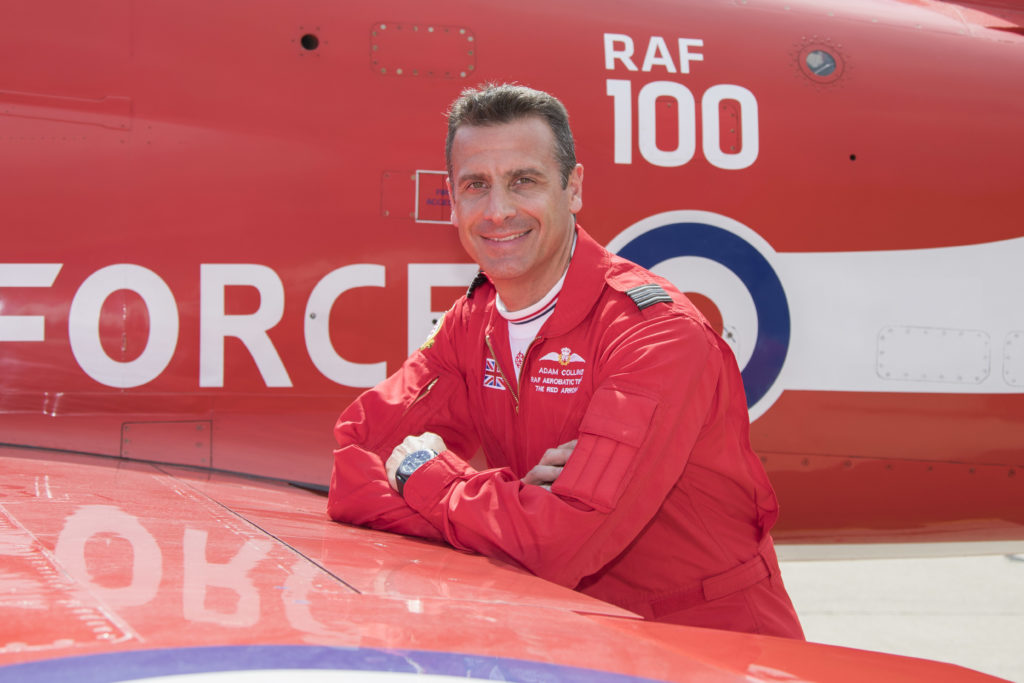 "The primary role as Red 10 is team supervisor. So, during the training period in the winter, I'm supervising mainly the synchros, or the opposition solos, that work up the more dynamic aspects of the show," Collins said. "I'm out with a radio watching that, safety supervising and also providing feedback on the maneuvers that they are practicing."
In addition to his winter training duties, Collins is in charge of coordinating with authorities and the FAA equivalents in the United Kingdom to make sure the team's demonstration complies with all regulations, and that all organizers and air bosses are familiar with it.
"When we are into the summer display season, I fly the tenth aircraft wherever we go, so we normally operate as a ten-ship between displays," Collins said. "And once we arrive at the display sites, I'll then go out on the ground to liaise with the air boss, or flying display director in our terms, get ready for the show, [be] out on the ground normally a couple hours before the display, supervise the display and, whilst I'm doing that, will actually provide the narration."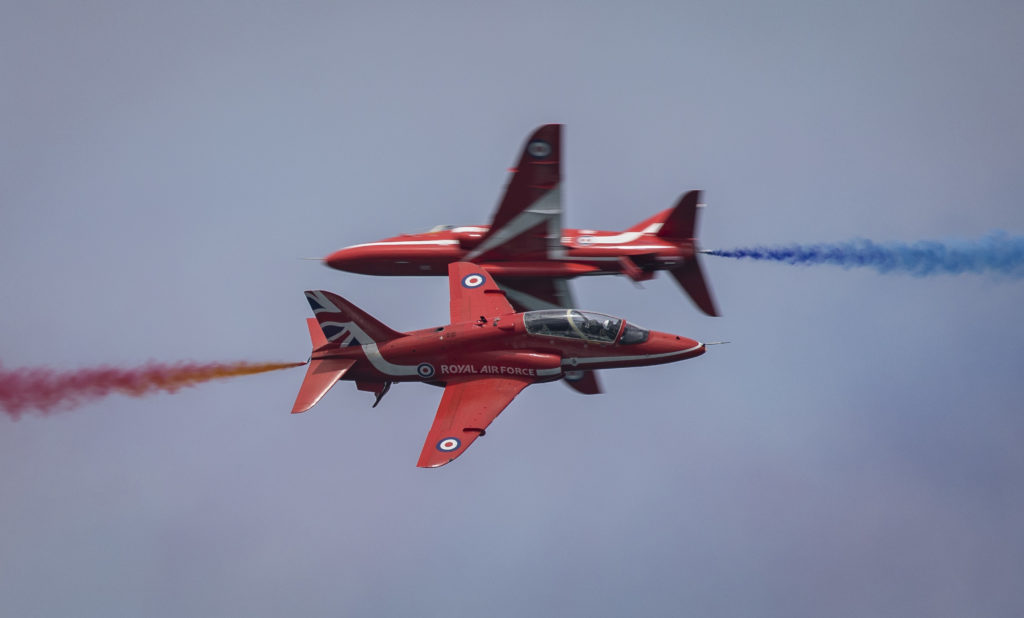 According to Collins, the process of becoming a team member requires that pilots meet a list of incredibly strict prerequisites even before being considered eligible to apply.
"Every member of the Red Arrows — so from Red 1, team leader, through me as the team supervisor, Red 10, and the officer commanding — you have to have a background of frontline fast jet flying to be eligible to join the team," Collins said. "It's a very strict selection process, and part of the prerequisite is to have served on the frontline, have a minimum number of hours of fast jet flying (so we have pilots on the team with a background in Harrier, Tornado, Typhoon, and various other things) as well as exchange tours."
Since 1979, the Red Arrows have performed in the BAE Hawk T1, a two-seated training aircraft that features an upgraded engine as well as smoke features to allow the team to produce red, white or blue smoke. Overall, very different from the advanced fighter type aircraft that team members have previously flown on the frontlines.
"They're very, very different beasts. The Hawk that we fly on the team is actually the original T1, so it's a completely analog cockpit. There's no glass displays in there at all, it's just old school dials," Collins said. "But for us in the Red Arrows, it's a very simple aircraft, very easy to maintain. There is nothing helping us out, there is no moving map, there is no head-up display… But apart from that we're using stopwatch, rules of thumb and applying wind and so on by our own techniques — so very, very simple airplane – very different from the aircraft we fly on the frontlines."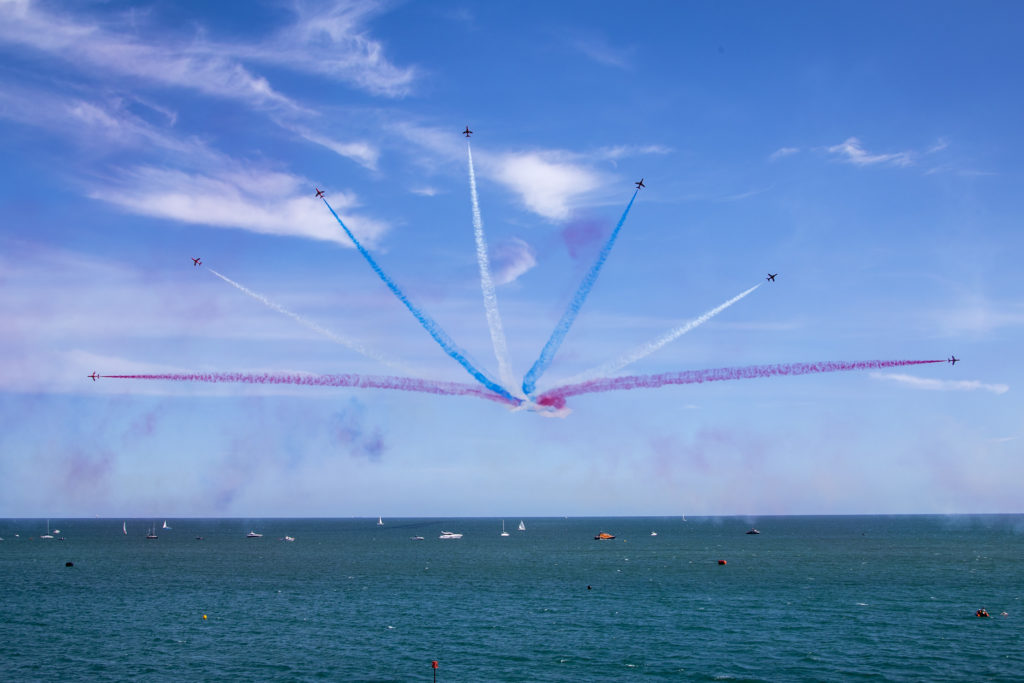 In comparison to North American military jet demonstration teams, the Red Arrows operate in a much different manner with a lot less people.
"We don't take as many people on the road with us and tend to be in places for shorter periods of time," Collins said. "An average season we probably display – I think last year we did about 70 displays – now some displays will be two or three times at the same location but quite often we display at more than one location in a day."
On Friday, February 8, the team announced that it would be performing at this summer's Aero Gatineau-Ottawa Airshow on August 13, Chicago Air & Water Show on August 17-18, Atlantic City Airshow "Thunder Over The Boardwalk" on August 21, New York Air Show on August 24-25, Canadian International Air Show on August 31-September 1, Spirit of St. Louis Air Show on September 7-8, Oregon International Air Show on September 21-22 and The Great Pacific Airshow on October 5-6. For more details on each show, visit the official ICAS Air Shows Calendar at www.airshows.aero/Page/ASCalendar.