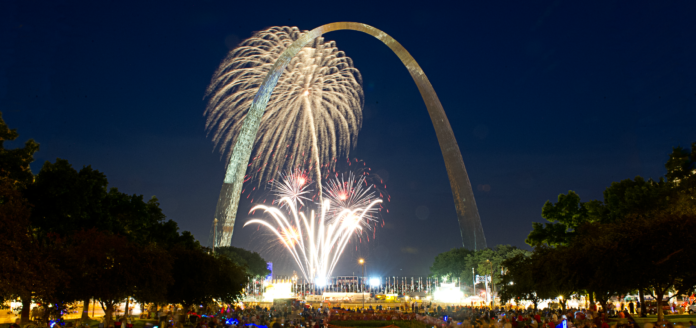 This season, two air shows will be returning after years of not having an event. Both the Fair Saint Louis Air Show in St. Louis, Missouri and the Terre Haute Air Show in Terre Haute, Indiana are returning to the air show circuit this summer with strong aerial programs planned for both events.
After a four-year hiatus and a $380 million renovation of the St. Louis Gateway Arch National Park that caused the annual fair to temporarily relocate to Forest Park, the Fair Saint Louis Air Show will be returning to the banks of the Mississippi River for its Independence Day celebration.
"It's a totally free show. People were clamoring for it and they couldn't do it in Forest Park," said Brian Lorenz, who is chairman of the Fair Saint Louis Air Show. "We have some of the best performers coming, the best talent coming and the big fireworks."
The show will take place on the Fourth of July from 12:30 p.m. to 2:00 p.m. CDT and, again, from 6:30 p.m. to 8:00 p.m. CDT at the St. Louis Gateway Arch National Park. Although the show will only be on Independence Day, Lorenz is planning to have the show each day of next year's Fair Saint Louis celebration.
"We are back in full force," Lorenz said.
As for Terre Haute, it has been more than a decade since its last air show. But this year, the U.S. Navy Blue Angels are headlining the event's return, alongside the F-22 Raptor Demonstration Team, Matt Younkin Airshows, Tora Tora Tora and many others.
In making this an event for the entire Terre Haute community, the show will be using local vendors and organizations to provide most of its services, including food, drink, communications, tents, and bathrooms. In addition, the show has raised up to $400,000 from sponsorships and fundraising activities.
"This will probably be the largest two-day event in Terre Haute ever," head of ground operations Bill Foraker said. "Local groups have been coming forward and saying, 'We want to be a part of this and want to participate.' The response has been phenomenal."
The Terre Haute Air Show will take place on Saturday, August 19 and Sunday, August 20 at the Terre Haute Regional Airport in Terre Haute, Indiana.