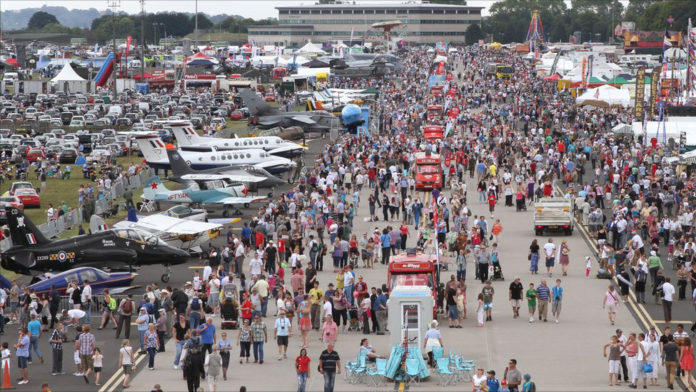 What would happen if North America suddenly lost 150 air shows?
One hundred fifty fewer opportunities to entertain and enthrall the 10 to 12 million people who attend air shows in the United States and Canada each year. One hundred fifty fewer chances to inspire the next generation of pilots, maintainers and all who support the complicated spokes of North America's aviation and aerospace industries. One hundred fifty fewer opportunities for performers and support service providers to book shows. One hundred fifty fewer air shows…real estate that we know is hard to regain once lost.
That's roughly the situation facing European air shows and, specifically, the British flying display community, which sets the tone across Europe as the dominant purveyor of that kind of entertainment. In terms of popularity, in the United Kingdom (UK), air shows trail only soccer and horse racing in spectator attendance.
But the fallout from a 2015 accident at the Shoreham Airshow in the West Sussex area of the UK has severely compromised the long-term sustainability of the UK air show industry due to new regulations, increased government fees and a good deal of uncertainty. In that accident, a civilian-owned Hawker Hunter jet fighter crashed onto a major road near the air show venue, killing eleven people and injuring 16 others. The pilot of the aircraft, who survived the accident, was subsequently charged with manslaughter by gross negligence for his role in the accident.
"We saw a 42 percent reduction in display applications to the Civil Aviation Authority in 2017," said Charles Skiera, European Airshow Council (EAC) Executive, the sister organization of ICAS in Europe. His position mirrors that of ICAS President John Cudahy. "[The data] suggest these are largely small displays. However, this is a significant decrease, which potentially has knock-on effects."
"These might be single item displays, where it's not a full air show. But, in the UK, smaller events tend to be those where new display pilots cut their teeth in the circuit, gaining
experience, knowledge and understanding, without the pressure of displaying at a large air show. This is perhaps the biggest risk, with very few pilots applying for their Display Authorisation [a UK credential that is the British equivalent of our Statement of Aerobatic Competency in the U.S. and Canada]," Skiera said. "Fewer displays also mean less opportunity to fund some magnificent aircraft, which sadly means that operators can no longer justify keeping some great examples of aviation history. The UK has always had a thriving warbird market with both imports and exports, but the tone now is that it seems to be a one-way stream out of the country."
The changes to the industry as a result of the Shoreham accident were sweeping. Regulators in the UK grounded all civilian-registered Hawker Hunters, restrictions limited other civilian vintage jets to flyovers, and banned some high-energy aerobatic maneuvers. The EAC and its members began to take a hard look at what changes they would have to make to survive.
"This was the first time since 1953 that members of the public had been killed or injured in the UK as a result of a crash at an air display; it was like no other day I can recall," said Skiera.
"The new rules now put a huge emphasis on keeping the wider public safe, with the identification of a 'Display Area' [very similar to North America's aerobatic box]. The display area is not a set shape, but plans must be made to keep the area sterile of members of the public. Simply stated, but not as easy as it may seem. If someone doesn't wish to move, they cannot be made to move. What does this mean for the air show? Potentially, it means delaying the flying until they move or [even cancelling] the whole show. It depends on how the organizers and pilots feel about accepting the risk and being accountable thereafter –potentially in a criminal court — should the worst happen," said Skiera.
"Overall, there is now a much larger burden of work required to stage a flying display. In general, it's the same for a small show as it is for a large one, which may be another reason for the reduction in [applications] to fly," he said.
While the number of shows staged in the UK is in a steep, double-digit decline, another trend the UK air show community is tracking is a dramatic decrease in attendance, particularly when comparing the number of shows in 2017 to 2016.
Attendance figures provided by the British Air Display Association (BADA) suggest only the strongest and largest shows are growing. BADA categorizes shows in four ways: Larger, Seaside, Smaller, and "Other." Only larger shows saw attendance grow compared to 2016. Every other category saw attendance fall, in some cases as much as 14 percent year to year. The reasons are multi-faceted: Seaside shows are disproportionately impacted by poor weather. Smaller shows and flyovers tied to other events are struggling to afford the increased cost of insurance and new regulations in a post-Shoreham world.
"A car show is still a car show without a flypast," said Kate Brown. "And, for smaller events (think 1-3 flying items), they've made the tough choice to forego adding air elements." Kate now calls the UK home after more than a decade managing operations for one of North America's larger air shows in Abbotsford, British Columbia.
"I speculate that uncertainty prior to the 2016 and 2017 display seasons regarding new air display requirements, plus the additional layering of elevated public safety and counter-terrorism precautions, particularly at non-airport/public access venues, made organizers weigh the effort to the overall benefit," said Brown.
She agrees that a reduction in applications is troubling, but says the UK industry is headed in a good direction from a safety and standard operating procedures standpoint, with more formalized roles and accountability. "The mountain of elements reviewed and rebuilt in the last two and a half years since Shoreham is a feat of which the regulators, organizers, flight control committees and aviators should be proud," Brown said.
"From a personal point of view," said Skiera, "I think the biggest struggle the UK industry
has is the lack of new blood coming through the ranks. At 34, I am one of the younger members of the UK industry, which is of concern. My personal thought is that time is a healer and — like most activities — we may just be in a dip in popularity for many reasons. There are many others that would disagree with me, but only time will tell. The air displays of yesteryear are now exactly that," Skiera said. "We are in a new era, where I am sure the industry as a whole will evolve, change and morph to meet the new demands to see its survival into the future. What that looks like is anyone's guess. But we don't all live forever and — without new pilots and organizers coming through –we will struggle as the flow of new ideas is turned off at the tap."
Between an aging industry that isn't attracting and retaining young talent, increasing regulation, and skyrocketing costs, one thing becomes clear: we share our respective problems even if the precise circumstances are not exactly the same. We may also benefit by working together to identify and implement possible solutions. At the end of the day and (metaphorically, given the time difference) the beginning of theirs, our exchange of information needs to "jump the pond" to reinvigorate our industry and that of our European colleagues. We're in it together, all with a vested interest in seeing this unique form of entertainment and inspiration survive for decades to come.