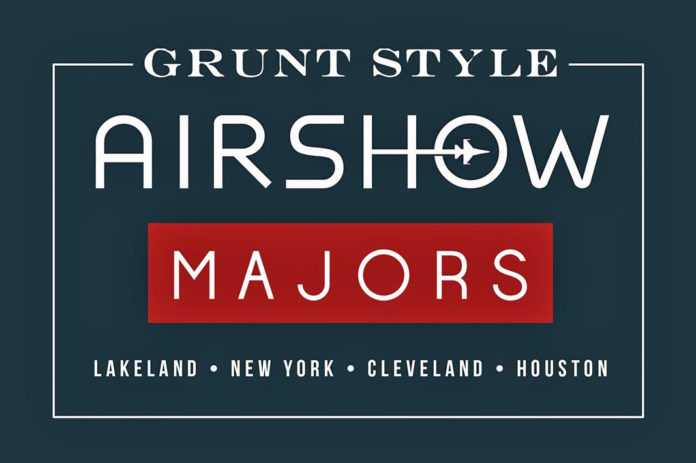 This year marks the inaugural season of the new Grunt Style Air Show Majors tour consisting of SUN 'n FUN International Fly-In and Expo, the Bethpage Federal Credit Union Air Show at Jones Beach, the Cleveland National Air Show, and the Commemorative Air Force Wings Over Houston Airshow. The new program seeks to bring the four events together to celebrate aviation, honor the military, and elevate national exposure of air shows.
As official tour stops, the four shows will receive increased national promotion, visibility at the other participating shows, and benefits from partnering with tour creators: Grunt Style and Red Frog Events. According to Scott Howard, Vice President of Sales and Marketing for Red Frog Events, this new initiative has the potential to create new national sponsorship opportunities for the air show industry.
"A common challenge amongst the shows I've spoken with is the lack of exposure to and investment from national brand partners. Not only does that limit the investment opportunity to local budgets, but it also limits the broader promotion and brand building of those shows," Howard said. "This effort — to collectively pull together air shows to offer a 'season' that gives sponsors a calendar to market around and a national footprint — is going to create an opportunity for more brands to be attracted to the industry. It becomes a year-round activation opportunity versus a one-off. The benefits to the shows are larger national budgets and broadening awareness."
As a result, the program is expected to expand its air show lineup over the next three to five years to continue increasing exposure for its partners.