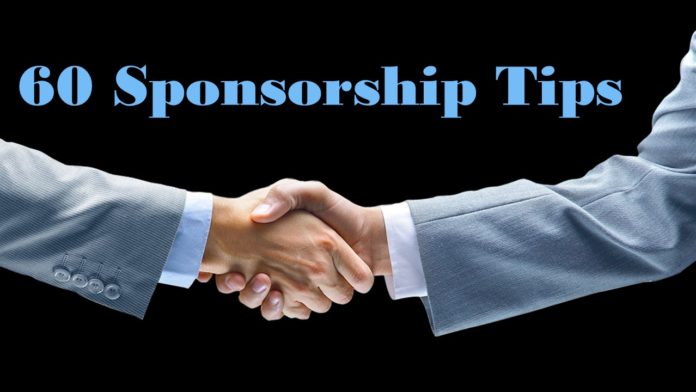 During a fast-paced, information-packed session on Monday, December 4, at the 2017 ICAS Convention, six panelists with specific and considerable sponsorship expertise provided the audience with tips, advice, ideas and suggestions at the rate of one tip per minute for a full hour.
The latest in a series of "60 Tips in 60 Minutes" sessions organized by ICAS, the session drew a large crowd and was one of the top-rated educational sessions at our 2017 ICAS Convention. ICAS offers an abridged version of all 60 tips here for those of you who were not able to attend the actual session.
Panelists: Scott Howard, Red Frog Events
Bruce Erley, Creative Strategies Group
Ryan Kern, Duluth Airshow/Kern and Kompany
Bill Roach, Wings over Houston Airshow
Phil Pacific, ADC Group, Inc.
Deb Mitchell, Latitude 31, LLC
Assume that no brands are thinking about you. You need to be the one thinking about them and going to find them. Brands have so many options and so many salespeople approaching them constantly that you have to go work for it. (Howard)
Keep in touch with your sponsors throughout the year. Turn your sponsorship into a relationship! Send them a holiday treat, a note when their company is in the news or invite them to a jet team winter planning visit. (Erley)
Don't be afraid to leverage the competition. Think about competing businesses in your community. Talk to both about being involved and don't be afraid to say that their competitor is also interested and you will take whoever gives you the better deal. (Kern)
It's an investment, not a donation. Sponsors expect a return on their investment. It varies specifically to what the company or individual goals may be. Examples: brand awareness; community support; getting their products or service out to your fans, drive traffic to their business, etc. (Roach)
Build a sponsorship tool box. Categorize and quantify all of the available tools in that tool box: tickets, VIP passes, parking, exhibit space, media impressions, on-site impressions, rides, hospitality opportunities, exhibit space, associating your event's name and reputation with prospective sponsors. (Pacific)
First things first. Sign a media and retail partner. Leverage their assets to enhance your other sponsorships. (Mitchell)
Structure a fair deal that is attractive to all sides. Always think about who needs whom more and structure the deal to both feel good and create a fair value exchange. Fair deals lead to long-term relationships that ultimately provide more value for both sides. (Howard)
Analyze, activate and document. Determine in advance what your sponsors want to achieve at your show and then help them create the activations and measurements to document the results. During sales and planning meetings, ask them, "Specifically, what results do you want to see come from your sponsorship of the air show?" Once you know what their metric will be, make sure you are focused on achieving those objectives and putting into place ways to measure results. (Erley)
Leverage your sponsors with their suppliers. When working with potential sponsors, find out about integrating their clients or sub-contractors, as well. If your sponsor is an airplane repair facility, have them network on your behalf and talk to their suppliers about also being involved. It's a great way to have like-minded businesses not only support their customer, but also support you in the process. (Kern)
Know your audience. Share that information with your sponsors. Get demographic data about your audience to share with sponsors. Sponsors are trying to reach new customers through your event. If you don't know who's coming, it makes it harder for sponsors to understand if your event will enable them reach their target audience. Use the ICAS spectator survey results as a resource. Use area colleges' business classes to do surveys. Organize focus groups. Or contact your local chamber of tourism and commerce development entity. (Roach)
Focus on developing a strong customer service program. Treat all sponsors, exhibitors and private chalet customers as guests in your home. Say, "thank you," early and often. Answer requests and questions in a timely manner. Check in with them often. Make sure they have a great experience. (Pacific)
Be authentic. Honor your mission statement in all that you do, but also help your sponsors develop authentic promotions that will resonate with your fans and enhance your sponsorship. (Mitchell)
Get beyond the Silver/Gold/Platinum sponsorship levels. Standard sponsorship packages don't exist anymore, so be flexible on both assets and price, ultimately driving value for your partner. (Howard)
Pre-write thank you notes. No air show producer has ever had "Write sponsor thank you notes" on the top of their huge task list in the days following an air show. Therefore, have a thank you email pre-written before your air show so that you can fill in a few other details and get it sent within 24-48 hours following the show. (Erley)
Be clear about expectations. Make sure to be specific when telling sponsors about perks. If you promise them radio and they are rotational spots, make sure they understand that they will only be mentioned on every fourth spot. Also, keep some partnership perks "in reserve" so you can then bonus them on the back end to over deliver on their expectations. (Kern)
Make and maintain relationships in your community. Join and participate in your area chambers, convention bureaus, city council members, and any other networking groups that are a fit for possible contacts. (Roach)
Develop and maintain a strong paperwork process. Use that process to track all the sponsor and exhibitor components: contracts, logos, ad materials, public address announcements, etc. This ensures that you maximize your sponsor benefits and protect your show by collecting all Certificates of Insurance from exhibitors. (Pacific)
Activate. Activate. ACTIVATE! Help your partner by creating an activation plan for them. It can be as simple as USAA members getting a ride to their car at the Miramar Air Show or it could be cross-promotional or cross-channel. (Mitchell)
Talk to everybody. The lines are more blurred than ever on who does deals (PR agencies, sponsorship agencies, brands, media, advertising, etc.). Don't limit your ability to connect by making assumptions that no longer apply. (Howard)
Keep samples. Create a "keep list" for promotional materials, social media screen shots, photographs, press clippings and other items you will want to have copies of for post-event reports. (Erley)
Think long term. Aim for a sponsorship model that encompasses multiple shows and multiple year agreements. Why go back every year if you can simply get a sponsor to make a five-year commitment one time? (Kern)
Think broadly when considering sponsorship opportunities. Have you maximized every possible area of your event as a sponsorship opportunity? Take inventory of major and minor segments of the event, establish an expense budget for each of those areas and set a sponsor rate that covers costs and add an extra percentage on top of that cost. (Roach)
Maintain clear, open communications. Sponsors should feel as if they are part of your air show. Provide regular reminders about due dates and deadlines. Check in as frequently as possible during air show weekend. Say "thank you" before recap reports are finished. (Pacific)
Take Facebook seriously. You have to take Facebook seriously. You can no longer do it once a year and then ignore it the rest of the year. Engage with your fans, create fun promotions, and take advantage of all social media features to enhance your show. (Mitchell)
Build partnerships, not sponsorships. They will turn into friendships, which turn into long-term relationships. It's much harder to discontinue a deal once a friendship is in place than it is a pure transactional sponsorship. (Howard)
Get the post-event reports to your sponsors soon after your show. Many sponsors and their agencies now require a recap of their sponsorship. Prepare a comprehensive post-event report to present to your sponsors within two months following your air show. It should include attendance and audience survey data, promotional and media recaps, PR clippings, photos of the sponsor's signage and exhibit space, video clips and digital analytics. (Erley)
Throw in a "sweetener." Be creative with "add on" opportunities when trying to seal a deal. For example, what if you add golf cart advertising with only your sponsor's logo on it if they do the sponsorship? (Kern)
Do research on prospective sponsors. What is their mission statement? Who do they already support? If possible, find out the personal interests of the decision maker to find a better match to ensure they maximize their investment in your event. (Roach)
Recognize exhibit space as a form of sponsorship. Exhibit pricing should be competitive with local events. Develop a plan that ensures strong traffic flow through the exhibits area. Exhibits should be at least 20% of all your sponsorship revenue. (Pacific)
Put your performers to work! Educate your performers about your sponsors and encourage them to visit the chalet, sign autographs, and make your sponsors feel extra special. (Mitchell)
Trades can be great. Eliminating bottom line expenses can be as good as, if not better than, some top line partnerships, but don't make trades for products or services that you don't absolutely need. (Howard)
Leverage your social media as a sponsor benefit. Meaningful engagement with your Facebook followers has become a highly valued benefit to sponsors. Allow them to provide content-rich posts that are of interest and relevant to your attendees. (Erley)
Cross Promote. Cross Promote. CROSS PROMOTE! If you're working with a soda company, they tend to do a lot of advertising and promotions. Can you tie a promotion in with them for a VIP perk giveaway? Then tie the local radio station, grocery stores and anyone else into it, for example, whereby they are all promoting you at no additional advertising cost. (Kern)
Sell your hospitality space, infrastructure. Offer hospitality and networking opportunities within the event. Offer your chalets as business-to-business client and customer entertainment opportunities. Create different priced packages for chalets from basic to 5-star exclusive areas. (Roach)
Organize and track all relevant information. Create a comprehensive sponsorship database that includes information on past, present and potential sponsors; detailed contact information; and details on sponsorship packages of past sponsors. In addition to being a useful way to organize the information, it also simplifies transition if a key member of your team should leave the organization. Look at using Google docs or Monday.com. (Pacific)
Be honest in your reporting. Be honest with your reporting, especially with attendance figures. Make sure your sponsor knows why there was a change in projected attendance and what you plan to do differently next time to resolve any issues. (Mitchell)
Demonstrate professional courtesy. Do what you say you will do. Return calls. Have respect for people's time. Don't allow yourself to get in a position where your client is nagging you for follow-up. You're a choice for them, not a requirement. (Howard)
Look beyond air shows for ideas, inspiration. The air show industry actually has more in common with festivals, special events and sports than you would imagine. To get ideas and leads for new sponsors, conduct web searches of not just other air shows, but of other events with similar characteristics such as NASCAR, patriotic events, etc. (Erley)
Show a potential sponsor what they are getting. Too many times, you describe something that falls on deaf ears, but if you can show them with "select" imagery of what they are getting, it's far easier to get a "yes." Make sure to select the best images from your show that showcase the crowds and how much exposure a sponsor is actually getting. (Kern)
Leverage your sponsors' advertising campaigns. Do they have a large media buy already? It's likely possible to make simple changes to their content around your event time. Many advertisers buy marketing campaigns for a long term and a simple revision may be all they need to include your event. (Roach)
Offer, quantify media impressions. Provide a large number and wide variety of sponsor media impressions and then report on those impressions thoroughly and carefully. By measuring impressions, you can gain additional dollars from those sponsors seeking branding. (Pacific)
Seek feedback. After the show, host a sponsorship wrap party. Not only can you thank them, you can seek valuable information about what went wrong, what went right, and how you can do it better. (Mitchell)
Be productively impatient. Good things come to those who wait, but only the things left over from those who hustle. Stay in touch. If timing is not right for a brand to get involved or what you're selling isn't a fit — things change, people change, objectives change down the road — keep reaching out with sincere interest to build a relationship and it will eventually pay off. (Howard)
Encourage cross promotions. When your sponsors and media partners work together, adding in their own resources with air show benefits, these promotions can become bigger than life and ensure all parties achieve their objectives. Your sponsor will get increased exposure. The media partner will receive programming and contest resources. The show will benefit from heightened promotion. (Erley)
Upsell. Create opportunities for your sponsors to move up to a higher level sponsorship at any time. Why have a sponsor give you $10,000 at a level when they would also be willing to give you $20,000 if they can stand out from the rest by simply being granted category exclusivity or some other perks? (Kern)
Play the long game. Allow ample time to develop the research. Meet formally or informally to build the relationship and to get to know them. (Roach)
Initiate new sponsorship leads frequently and continuously. Develop multiple, reliable systems for identifying prospective sponsors and implement a program to regularly and consistently follow up with the leads generated. (Pacific)
Give your sponsors a preview. Give your sponsors a preview a month before the show. Don't just preview who is flying, but also advise your sponsors of where they can park, when they can set up, how they ingress and egress, and all other details. Also, be sure to take advantage of this preview and hand out passes, so it wraps up everything a month ahead of time. (Mitchell)
Be respectful. You see the same people on your way up the corporate ladder as you pass falling down it. Don't chase titles. Just find the people who "get it" and have respect within the organization and make your pitch. But treat the others who are more junior with as much professionalism. Everyone starts somewhere and they will advance to become decision makers. (Howard)
Create a mobile app. Mobile apps provide a low cost replacement for paper programs distributed onsite to guests. At $1,000 to use an existing platform, you can also save on the cost of printing and distributing a hard copy. Use it to promote your schedule, preview acts, find exhibitors, promote your sponsors, and assist your guests with important information. (Erley)
Dress to impress. Perception is reality. Think about what you wear when meeting with potential sponsors. You want to give the best professional representation of your organization and event. We are all human and we base the value of a sponsorship based on the person sitting in front of us. (Kern)
Introduce your key customers to the magic of air shows. Bring your sponsors and prospective sponsors out to see your event. Treat them to a VIP experience. Let them get a look behind the curtain. Make them feel like a part of your event. Dedicate an enthusiastic and knowledgeable person to escort them around the event and even some nonpublic areas, where appropriate, that are similar to a behind the scenes tour. (Roach)
Mind the brand. Help your sponsors by developing your event's brand deliberately and maintaining it carefully. Develop strong, professional art with specific fonts and colors. And then use that art consistently to create a clear, consistent brand. (Pacific)
Don't offer a la carte sponsorship benefits. Try to avoid a la carte benefits. It only encourages cherry picking. Furthermore, it allows sponsors to set the value of your benefits and assets. (Mitchell)
Do business with good people. This may mean taking less money in the short term. You will enjoy working with them day to day and will want to go out of your way and over deliver, adding more value to their partnership and keeping them coming back. As a result, you are making more money in the long term. (Howard)
Define sponsor categories narrowly. Look to increase sponsor revenue by subdividing sponsor business categories. Banking should not include investment services. Soft drinks don't have to include tea, juice or water. Beer can be divided into the major and craft brew categories. Each of these categories can mean more revenue from similar (but not the same) categories. (Erley)
Follow up with sponsors early and often. Help them see the exposure they're receiving and highlight their additional visibility as air show weekend approaches. Don't be afraid to send them updates so they can see all the places their logo is and the reach they are getting. (Kern)
Pay attention to fiscal year cycles. Most city and government entities start their new fiscal year on October 1. For our October event, this is too late. It requires us to reach out more than a full year in advance. (Roach)
Create a sponsorship video. Use it to send your prospects a clear, compelling message about the quality and professionalism of your event. Videos should feature large crowds having fun, strong traffic in your exhibit space, hospitality chalets and less than 20% aircraft footage. Your video should last less than one minute. (Pacific)
Talk with your announcer earlier and later. That means talking to them and providing announcements at least a month before the show, even if they are pre-recorded, and then reviewing the week of the show for any changes or important updates. (Mitchell)During a fast-paced, information-packed session on Monday, December 4, at the 2017 ICAS Convention, six panelists with specific and considerable sponsorship expertise provided the audience with tips, advice, ideas and suggestions at the rate of one tip per minute for a full hour.