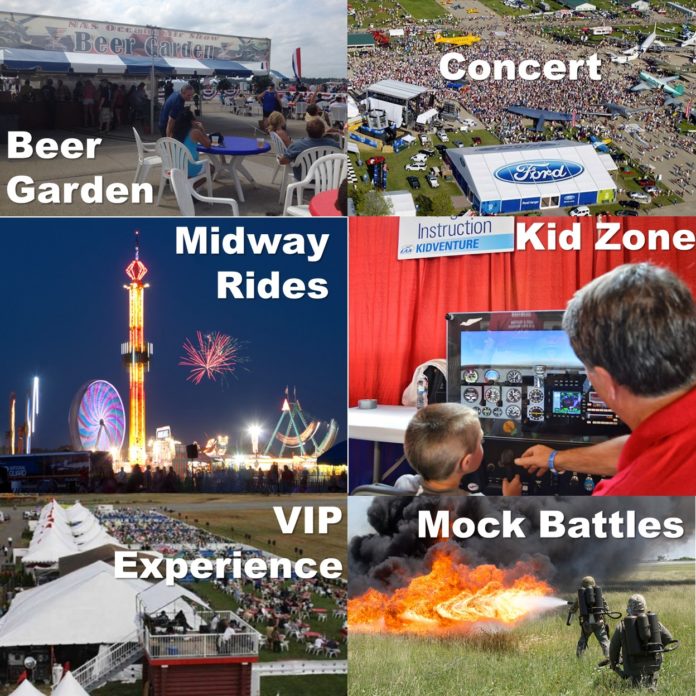 "Every event is an event within an event," says Red Frog's Master of Monkey Business (CEO) Ryan Kunkel, and he's right. More and more major events are now taking a broader approach to keeping their visitors engaged. Four hours of flying and a dozen or so static display aircraft aren't going to compete very well in the fast changing world of outdoor events. Kunkel points to Sun 'n Fun's bar as an example, saying, "It's packed. It elevates the drink options at the air show, adding to the customer experience, increasing time on site and money spent."
Red Frog Events — an event production company and pioneer of the experiential entertainment industry — is one of Forbes' "Most Promising Companies in America." Recognized for its award-winning company culture, it has, since 2007, developed innovative brands including the Warrior Dash obstacle race series, Firefly Music Festival, and Chicago Beer Classic. Red Frog also provides event services ranging from food and beverage to its ticketing platform, EventSprout, where it first connected to the air show industry.
Kunkel says, "I believe, if someone doesn't see a single band at our music festival, they'll still have the time of their lives. Even if you're not an aviation enthusiast, you should still have a great day with your family, without seeing a plane. There are numerous things we can do with ancillary things and comforts to make that happen. I'm blown away by the air show industry and the smart people in it and the level of engagement of attendees. The demographics are ideal. An outsider's perspective is what I provide. We're not aviation experts, but we do take pride in the experiences we bring to other events. I'm as passionate about these events as this industry is about aviation. Enhancing the guest experience working with new partners is a great opportunity."
He likes what the Hangar 24 AirFest in California is doing and says, "A craft beer hangar, or vineyard wine area offering 'flights' of wine within the event would enhance most shows. The DNA of an event is all the same: the guts of it, getting people there, making sure they enjoy themselves."
Kunkel suggests, "Look for the best practices from other events, sports, endurance; there are great examples that can be employed. You have to start with basic needs and then work your way up. Tackling traffic, providing shade, minimizing lines, waste management, adequate washroom facilities, and food, etc. After those areas are worked out, then start providing more activities and experiential things. These attract more corporate sponsors that bring on more enhancements. Focus on the operational basics and layer experiential enhancements on top of that. Shade is one of our biggest issues and perhaps the easiest to fix. One of the biggest concerns is, 'Do we have the resources to increase tents, port-a-potties?'"
Red Frog spends a considerable amount of time, money and effort addressing non-music issues at their music festival.  Guests ask for upscale food options, so they give them upscale food options. Guests ask for very nice camping accommodations, so they provide very nice camping accommodations. Red Frog also puts a great deal of effort into designing the environment in which the event is held. This year's Firefly Festival was held in a place carved out of the woods. They built structures that fit into that woods/forest idea. For instance, they created a small grove and hung dozens of hammocks near temporary bar/saloon-type structures in a style that fit with the rest of the event and its décor. Kunkel says, "These are the kinds of things that will improve the experience for people on site and help generate more sponsorship and increased ticket prices. These added expenses can be revenue generators." Jim Breen's Air Show Network has demonstrated that upgrading a ticket not only enhances the fan experience, but fans are willing to spend the money to do it.
The air show industry has experimented with monster trucks, motorcycle daredevils, and such. Rick Grissom has found success with midway rides while John Cowman in Georgia is pursuing a BarBQ competition. Co-located country and rock concerts have seen mixed results, but AirVenture Oshkosh has made it work with great success. Kunkel reminds us that, "Concerts can bring a younger demographic to your show."
Air show ticket buyers' expectations are changing and they are purchasing tickets to other events that provide events within an event. T-shirt cannons at hockey games, half-court shot contests for people selected from the audience at basketball games or even Smooch-vision contests and dance moves at other sport events work and can be considered by the air show community.
GROUND DISPLAYS: NOTHING STATIC ABOUT IT
Darcy Brewer at the California Capital Air Show says, "The effort put into all non-flying educational and entertainment programs brings HUGE rewards, creating greater value for ticket price. Families stay longer each day and remember the unexpected learning/experiences/memories long after the air show gates close. Keeping it fresh in each area brings excitement to our fans to come and see what's new each year…thus earlier ticket sales, buzz around town and little to no issues over ticket prices or increases."
The air show's Kids Discovery Zone as well as the Aerojet Rocketdyne Space and Aviation Launch Pad areas are huge hits, but are not without challenges. "In addition to volunteer staffing for the show (about 1,100 people these days), these attractions require skilled volunteer support. Funding these often costly event enhancements is always a concern, but sharing the ownership and meeting the needs of the partners willing to brand and help staff it, seems to have been the solution thus far," Darcy adds.
"We always strive to produce new, exciting stuff each and every year. Doesn't matter whether that means new exhibits or interactive displays: a more complex theme to honor stories and sacrifices from long ago, a warmer welcome at the gates or free program handouts, pilots handing out free coloring books to little ones, a petting zoo, live music, parades or even elaborate beer gardens with sky deck trailers, wine flight chalets, food trucks or Johnsonville Brats mega-trailers, etc.  This was our promise to a region that has held us up for over a decade through thick and thin, and we are going to keep that promise. Period. It is our duty and an honor to figure out how to provide a bigger, brighter, better guest experience every year; we owe it to our community," she concludes.
Jerry O'Neill, who as a member of the Airdales Flightline Operations team has spent years carefully and creatively moving planes around static display areas, says, "I'm not sure if we ever had a discussion on the subject of ground displays, but it's something I think doesn't get its due because most events really are only concerned about what's in the air." He adds, "I'm big on themed displays and not just putting Navy aircraft with Navy aircraft, etc. There is a larger picture here that most shows miss, and that is, by juxtaposing items on display, you can more easily teach and demonstrate what the history and development of a subject is in an enjoyable and entertaining way. Take the agricultural display at Sacramento in 2014. Most people wouldn't give the aircraft a second look because they looked too "civilian." But when they decided to place tractors among the aircraft and had some displays about aerial seeding created, it wasn't just a line of aircraft anymore. It became interesting and entertaining."
One of the things that struck me while strolling through what Jerry and his team did in Sacramento was a Piper Cub circle. "It proved to be really fun. These guys were very happy when they were put in a circle and were able to share their aircraft and the homebuilt 'Cub outdoor grille' with visitors. The display looked like a big Black-Eyed Susan flower from the air!" says Jerry.
"I've actually done many shows focused on very specific aircraft or themes. At the Corsairs Over Connecticut Show in 2005, we created a "Vought Factory Final Assembly Line" in one of the hangers, complete with Corsair, coveralled men and Rosie the Riveters, original spare Corsair parts, Pratt & Whitney engine, original Vought tools, and we even created a factory noise background soundtrack playing on a hidden speaker. People loved it."
O'Neill and the Airdales like to mix it up, "One thing I like to do is juxtaposing something like a C-5 and a homebuilt right next to each other. It's impressive when set right. Tell a story! Make it photo worthy! There are so many ground themes that can be created with little or no imagination needed. I hate to give away all my ideas for future shows and displays, but here are just a few: amphibious aircraft and vehicles, flying "Jeeps" (L-Birds) displayed with a Jeep-type vehicle from each era: World War II, Korea, Vietnam and Desert Storm. Fire fighters, fire vehicles, aircraft and helicopters including smoke jumper displays. A World War II fighter revetment with one or two aircraft with the same squadron markings, not wing tip to wing tip as we always see (boring!), but cockeyed to each other with re-enactors, Jeeps, equipment, tents and drop tanks spread out. The history of fighter aircraft utilizing aircraft to represent each era, right up to today: World War I, 30s, World War II, Korea, Vietnam, 70s, Desert Storm and today.
The aircraft and vehicles of James Bond or a television series would be another way to commemorate an era. Through sequestration, we were forced to be more creative. General aviation, commercial and home builder displays have since brought a new element to a number of shows. "This type of display can take little to no effort at all, but the rewards can benefit the show in the long run if they are known for being inventive and entertaining on the ground, as well as in the air," says Jerry.
O'Neill believes that if you, "…touch the fans, your fan base will automatically increase." He also agrees with Kevin Walsh, who puts together a special place in the static display area at Thunder Over Michigan for performers and others connected to the show. Walsh hires local TV personalities to host a Q&A period with performers before or after they fly, separate from the main announcing during the show. Distinguished guests are included and fans get to ask questions as well. It's another sponsor opportunity and helps your ticket buyers connect to your performers and the theme or story you're trying to tell.
KIDVENTURE
Reaching families is key to our growth as an industry. One of the most impressive set-ups for kids I've ever seen is KidVenture at Oshkosh. The huge hands-on area is packed with activities kids can learn from. After completing each work station, kids get their cards punched and those who complete the Future A&P booths receive a Future A&P pin, two hours of official FAA credit toward their A&P certificates.
It's another sponsorship opportunity, as well. The presenting sponsor was Pratt & Whitney Canada; the Riveting Booth, supported last year by Van's Aircraft, teaches kids how to buck solid rivets using top-grade tools supplied by Avery Tools. The Engine Booth featured conventional four-cylinder engines and, with Pratt & Whitney's help, provided two PT-6 turbine engines that the kids inspected and worked on under the guidance of skilled A&P mechanics and Pratt & Whitney volunteers. Hartzell Propeller helped kids take a wooden prop blank and shape it into a finished propeller. Volunteers then burn the EAA and Hartzell logos into the wood and the kids then collected autographs from aviation greats around the grounds.
The Young Eagles flight education area featured a number of booths focused on what a young pilot should know. Kids receive a logbook and get 20 minutes of flight simulator instruction from a certificated flight instructor that they can log. Other cool things included electric R/C and control line flying geared to more mature children, but any age level is allowed to fly once they have mastered the basics.
The Kiddie Hawk Air Academy trainers are another nice addition to any show. A non-profit organization dedicated to introducing, educating, and sparking children's interest in aviation sponsored by Embry-Riddle Aeronautical University travels to schools, camps, museums, hospitals and aviation events where children interact with the trainer, airplane components, models and speak to them about basic concepts in flight and aviation careers.
The STEM Shuttle is yet another travelling exhibit and a great add to any air show. The program began in 2006 with a visit to the Deke Slayton AirFest in La Crosse. Back then, the vehicle was simply a "shuttle" named the "Spirit of Education." This unique enrichment program is designed for grades (4-8). The on-board S.T.E.M hands-on work stations challenge 20 students at a time who will spend from an hour to 90 minutes on board. This is repeated throughout the day. The Dream Flight USA Foundation is based in Wausau, Wisconsin. Sharon Ryan, the founder, chairwoman and creator retired last year as a full-time 5th grade teacher. She is the recipient of the Presidential Award for Elementary Mathematics and Science Teaching and she and her crew are doing great things inspiring the next generation of science-minded kids, aviators and, of course, air show fans.
WINGS AND WHEELS AND OTHER IDEAS 
The Wings and Wheels idea isn't new but it does work well. Local car clubs love to exhibit and can easily be moved into a static display. Matching eras can also be fun. In fact, all aspects of the airport's functions are interesting to visitors. Firefighting, snow removal and displays on how their luggage gets to and from an airplane are easy to do. Most air show fans are in love with anything that flies and the local bird control unit usually has several birds of prey that they can demonstrate either working or in your static area. Invite them and see what happens and make sure your announcer points them out especially if they're called upon to keep the seagulls away.
At Fleet Week San Francisco, military water purification systems are displayed, while at Iwakuni, Japan this year the Marines set up a Mobile Arrester Gear complete with F/A-18 on a prefab runway. Another interesting idea I saw while at the Sanicole Air Show in Belgium was the Belgium Air Force park one of their F-16s on grass. Sanicole is a small airfield near the large military facilities at Kleine Brogel Air Base. There is no static display because the spectator area is just a long, narrow strip between the trees and the runway. But technicians at the base took the wings off the jet and trucked it a few kilometers to the show where it joined a full mockup of Dassault Rafale jet fighter. You might be surprised at what your local base might be able to do for a smaller show if given enough time to plan.
LIMITS? ONLY YOUR IMAGINATION
Air shows are perhaps the world's most unique form of entertainment. We are fortunate to work in a business that provides us with such abundant resources to inspire, excite, and educate such large numbers of people.
This very limited overview of what a few ICAS members are doing on the ground to complement the flying portion of the program is just the beginning. The opportunities to introduce other, different and better ground attractions onto our air show ramps are almost limitless. And, increasingly, the competition to get and keep our potential customers' attention will require that we take full advantage of those opportunities to expand and improve the overall entertainment experience that we offer to our spectators.