Written By Collin Callahan
The end of the 2019 air show season was particularly poignant for performers Julie Clark and Matt Chapman. After performing for more than 35 years, each decided to retire from the air show circuit.
Now, Chapman, Clark, and pilot John Mohr –– who retired in 2013 after a 40-year air show career –– are reflecting on what makes air shows so special and on what producers and performers can do to improve air shows in the coming years.
Why did you choose to retire when you did?
CHAPMAN: There's no one thing that prompted me to hang it up. I just started thinking after 37 years, that's it. That's a good run in anybody's book. I felt in the last few years, I was becoming a little less interested in traveling as much as I was. I wasn't looking forward to being at air shows as much as I used to. Getting home from work at the airline, packing my bags, and heading out to the airport, or getting in the Extra and flying somewhere, became less and less pleasant for me.
CLARK: Going from show to show and ferrying your own airplane, never being home, away from your family –– especially if you have grandkids that are growing up –– it just was something that I knew it was God talking to me, and I knew I was finished. It's funny when you're done, you're done. So I knew I had one more year to go, and I fulfilled that and made the announcement at ICAS of 2018 that 2019 would be my last year. And I feel good that it was something that I just knew was the right time. You just know when you've been doing something for a long, long time, the time is right.
MOHR: I had been in it for 40 years, and there were a lot of factors that went into it. The amount of time that I really enjoyed it anymore was getting less and less. If you're not a hundred percent focused on what you're doing and you don't really want to be there at the time, it's time to get out. And so those times got to be more and more and the times of enjoyment got to be less. And I thought, "I'm not a hundred percent focused and motivated to be here. I shouldn't be doing this anymore."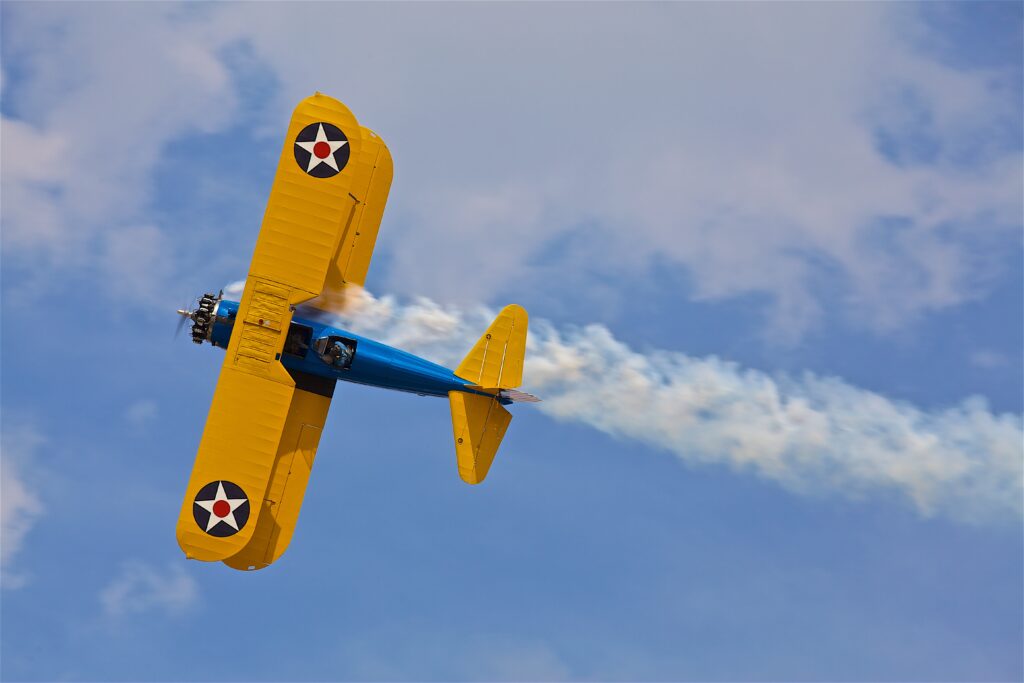 What do you think makes a good air show for spectators?
CHAPMAN: Some have airplane rides, and they bring in a lot of things that are not at all air show related, but keep the people entertained in between air shows or after the air show. I think a lot of concerts are a huge draw. You look at Oshkosh when they bring in headliners for their concerts, the people eat that up.
CLARK: What I think some of these producers do well is that they have a variety of acts. Have the jet truck, have a comedy act, and then have a team act, and then have warbirds. You've got to have variety. The shows that really do that are the ones that I think do very well.
MOHR: The jets are a big draw for the kids. The military aviation activity in the air show business is huge. You watch the Blue Angels, the Thunderbirds, the Snowbirds, they're all phenomenal jet teams and great acts. Then you start putting in the jet sound of the solo jets, that's amazing too.
During your career, what made an air show particularly good to work with?
CLARK: When they met you on the ramp and gave you the tools you needed so that you could function, that was great. They got you the rental car so that you could unload the airplane –– you're not just standing around on a hot ramp, you can't unload the airplane, cause you don't have a car yet to unload all your stuff into. They had their welcome packet all ready for you. That's what made the better shows. Be there with the car and give you the packets so that you can start doing what it is you need to do the minute your feet hit the ground.
MOHR: You showed up on a Wednesday or Thursday morning, and they had everything laid out for you. They said, "Okay, you're going to go over here and do these VIP rides. Here are the people you're going to give the ride to." They introduced you and they had an ambassador that went over there to be the liaison between you and the riders. When it came time to do the press stuff, we had a go-between person that made things flow really smoothly. They had the hangar space all figured out for you, so you knew exactly where you were going with the airplane. It was like they bent over backward for you, and they made your life so much easier.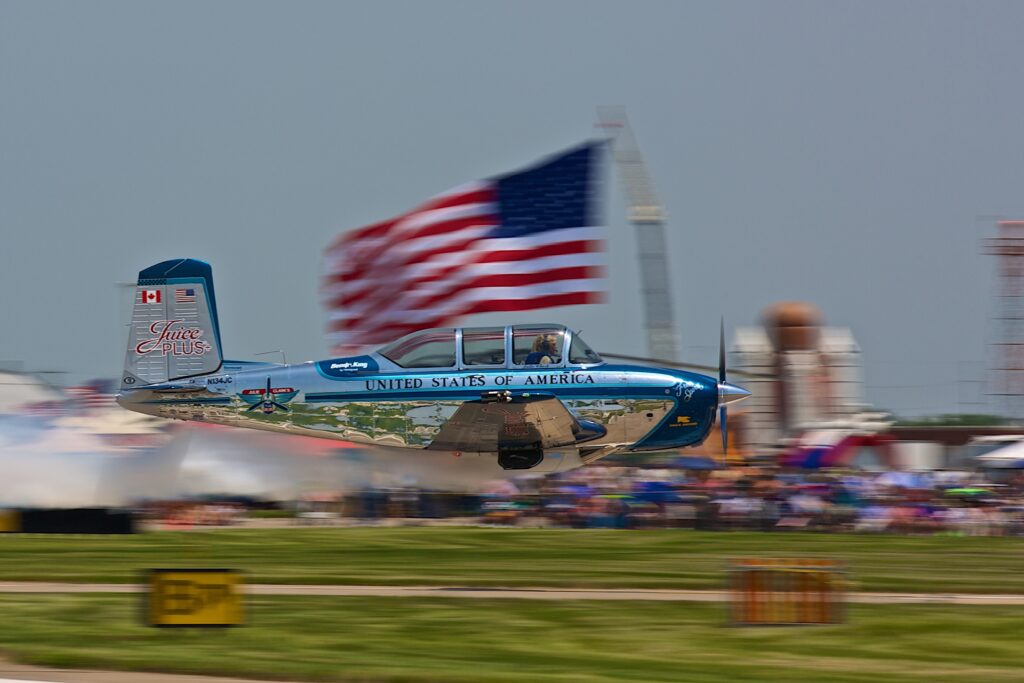 As a performer, what made an air show a challenge to work with?
CHAPMAN: Not being treated as if you're important to the success of an air show producer's program, I think, is one of the biggest frustrations. Going through all of the efforts to book their show, supply them the information for your act, your media package, your contracting requirements –– hanger, fuel, et cetera –– and then showing up for the air show and it's like they've never met you or spoken to you before.
CLARK: The biggest pet peeve I had was that at ICAS, producers would come around, and say,
"Oh, pencil us in." So they want you, and then you're trying to follow up later, and they don't return the calls. And then finally you get somebody and they say, "Oh, we've already hired all our acts." If you've changed your mind, let performers know. Because you hold open a day, you turn down another show, and then all of a sudden you find out that you're not flying that show. Return the calls.
MOHR: [Many performers] found it hard to operate and do a show at a military base. And the bigger the base, the harder it was. For example, we showed up at this military show on a Thursday and I asked if there was a wash area for the airplane because it was very dirty from flying cross country. They showed me where it was. I said, "Where's the garden hose?" There was no hose to put water on the plane with. That was a Thursday. The garden hose didn't show up until Saturday afternoon. That's how hard it was just to get a garden hose. It kind of became a standing joke with myself and my friends.
What do you think the biggest threat to air shows is?
CHAPMAN: You're seeing a real shortage of younger people interested in aviation. So the whole question is, why aren't they interested in aviation? Why aren't they at airports? As the Baby Boomers get older and stop attending air shows or don't go as frequently, where is the new air show attendee going to come from? I think that's an industry question that needs to be addressed by the event organizers and the performers over the next several years: how do you keep the people interested and involved and coming out?
CLARK: If sequestration ever happens again, it will just be very heartbreaking for the business. [In 2013], I was doing something like 21 shows. Out of those 21 shows, I had 12 shows cancel…just decided not to do a show because they were losing their jet teams. That just killed us. So I hope that never happens again in this business, because it was just awful.
MOHR: I would say government requirements and intervention. And that's kind of broad brush, but it's not one specific agency, even though each one plays a little part in it. You know, like with the FAA: they're challenged with protecting the population through regulation. But it also means layering on more and more regulation. The same with Homeland Security. We've seen it at airports, where there are more and more security requirements, things you can't do. There are a lot more things you can't do than things you can do.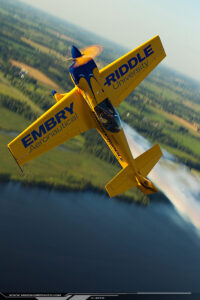 What do you think the biggest opportunities are for air shows in the next decade?
CHAPMAN: If we could get more air shows involved with getting onboard images beamed down to jumbotrons, that would be really exciting. Being able to cut from aircraft cockpit to ground-to-air, and all that, is making air shows a lot more compelling for attendees. I know when I'm at Oshkosh or SUN 'n FUN, I always find myself watching a jumbotron.
CLARK: Mounting cameras and letting people see what it is that pilots see as we're flying the airplane. To me, that is very exciting. I am a low flying guy, and I think a lot of the guys are, as well. And I think it's really a great tool that we didn't have 15, 20 years ago.
What advice would you give to a new air show performer?
CHAPMAN: Listen to the people around you. One of the things I've noticed over the years, and I was guilty of this as a young performer, is when a more seasoned performer gave me advice or critiqued me negatively, I got somewhat defensive in thinking that maybe they're trying to sabotage me, or take business away from me, or work against me in some sense. And I can say — almost without exception — that there is no one in our industry today that is out to get you. We're all in it together.
CLARK: Be unique. You've gotta be different, especially when you're first coming on the scene. Have some sort of a theme that makes you unique. You just have to be unique, and it's the people that have done that who are the ones that really make it in the business that you remember.
MOHR: You're going to have to persevere. When I talked to performers in the past, I found a common thread in those people, the ones that really excel and found success in the air show business, they lived and breathed air shows. They had a passion for it, like I did. I can't stress that enough that you've got to have motivation, you've got to have the passion for it, or you're going to end up either as a substandard act that doesn't go anywhere, or you're going to end up getting frustrated after four or five years and not sticking with it.
What do you think you will miss most about flying at air shows?
CHAPMAN: I think come May or June when all my buddies are out there doing air shows, and I'm not, is when the reality of my decision is going to set in. But I have to say over the last seven, eight, nine years, I've developed great relationships with several air bosses, announcers, and performers. So, you know, you always think you'll say, "I'll miss the performing or the airplane or the excitement," but — at the end of the day — it's really all about the people. There are some really amazing people that I'm going to miss seeing on a regular basis.
CLARK: I will miss my fellow air show performers and the young people that would always come to talk to me after [my performance]. I used to always say, "If I can inspire one young child every time I fly, I feel like I've accomplished something." Honestly, I'll miss the fans. I still get emails and letters and people that visit my website. The fans are what make it.
MOHR: Probably one of the things that I miss most –– that my wife [Lynn] and I miss the most –– are friendships that we made. The friendships. It's almost as Danny Clisham put it one time: it's air show family. We get to be closer than our own brothers and sisters in this family because we all have a common interest. I still get in the Stearman and fly it and go out and do some acro and feel that thrill, but I do miss the people.