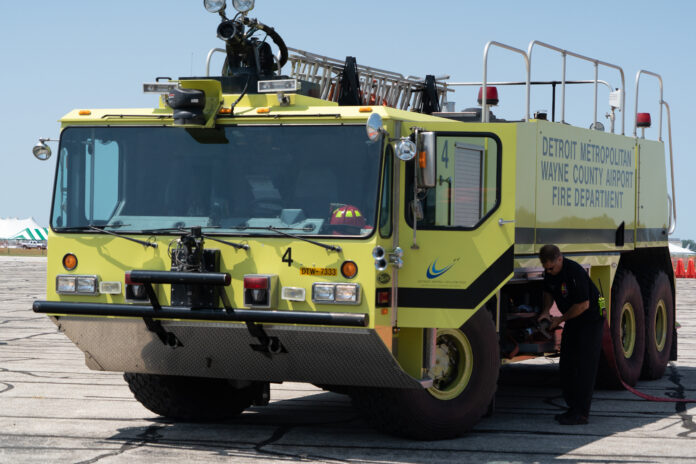 Industry veterans have long preached the value of simulated disaster drills as one method to prepare for an emergency and as a tool to acquaint relevant personnel with the process of applying a written emergency plan to a real-life incident. These drills are now a requirement of air shows in the United States.
Historically, these drills were conducted as tabletop exercises. Emergency response personnel ranging from the air boss and announcer to medical personnel and fire and police department representatives gather in a meeting room and talk through their response to hypothetical emergencies in real time, as though it is air show weekend and they are each executing their responses to a specific accident that has just taken place on or near the airport grounds. During a single tabletop exercise, appropriate personnel might simulate two or three different emergencies…from something as small as a windstorm that makes a mess of the ramp with only minor injuries to something as large as a mid-air aircraft collision with multiple fatalities among pilots and spectators.
These types of tabletop exercises give immediacy and relevance to the emergency response document that might otherwise serve principally as a dust collector on somebody's bookshelf. It is best that they be conducted four to six weeks before the show so that a) details of the emergency response plan are in place and, b) there is time to adjust/revise if issues come up during the table top. Tabletop exercises conducted more than six weeks before the show often deal with emergency plan details not yet resolved (which diminishes the value of the exercise) and, at show time, the lessons learned and training received from the table top are not as fresh in everybody's minds.
While tabletop exercises are an efficient means of gauging a show's preparedness, it is important to underscore the requirement to conduct a separate emergency response drill on the show's practice or rehearsal day. ICAS will be discussing these drills in greater detail in publications to follow and with the institution of an emergency response subcommittee of the ICAS Safety Committee. If you know someone qualified to be a member of this committee, please contact Dan Hollowell at hollowell@airshows.aero.