How much would you pay for this shoe?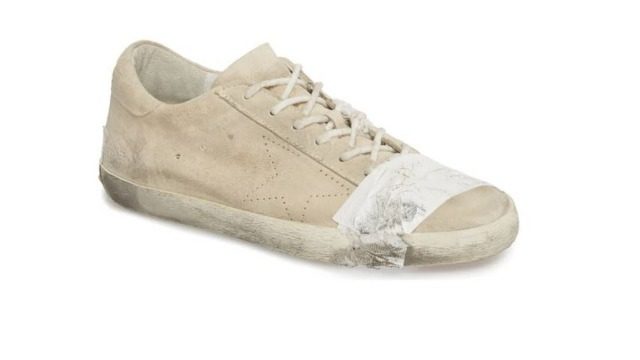 It's crumpled, wrapped in duct tape, and otherwise unremarkable… save for the asking price of $530.00.
On September 23, that sneaker sold out at Seattle-based, high-end retailer Nordstrom.
We can debate the merit of haute couture endlessly, but there is a parallel to our industry in terms of perceived value as it pertains to air show ticket prices. And, as the exorbitant price tag attached to that tattered shoe suggests, there is a bit of human psychology tied into what makes us want to open our wallets.
"Nobody wants to go to a five-dollar circus," says John Haak, Vice President, Food and Beverage, Red Frog Events. "When I came into ICAS in 2003, the average price for a ticket was eight dollars at the gate. I'm proud to see the average price is now $19.02. But it absolutely could be higher."
Considering the cost to attend a Broadway play, rock concert, or even major league sporting event can add up to hundreds of dollars, air shows offer incredible value for not a lot of money. But it's also no secret that many shows are struggling financially. Raising ticket prices is one of the fastest ways to help offset that.
Haak has noticed that the pushback on raising ticket prices often comes from an air show's board of directors, to which he says, "Knowledge is key."
"My trick is, when you're talking to the board or person who doesn't want to raise prices, educate yourself. Be smart coming into the room. Ask them what the price of a general admission ticket is and you'll find, generally speaking, they don't know the cost or when presale prices go up [or when they last increased ticket prices]. And, you will find that if you raise the price, your audi- ence doesn't go away, and now you've made more money."
He suggests five-dollar yearly increases spread over three years with a revolving strategy: raise prices one year on the gate, the next year on reserved seating, and the final year for a show's highest priced chalet and then keep repeating with a goal of $40 per ticket at the gate.
"This creates a rainy-day revenue fund, so you can hire better performers and start to upgrade your customer experience," Haak said.
"We had almost no complaints about raising prices," said Diana Warbeck with the 4 Wing Cold Lake Air Show.
Her show charged five dollars at the gate in 2014, which jumped to $15 for the subsequent show and jumped again to $30 for the show after. The increased revenue allowed the show to dramatically expand its static displays, upgrade the VIP experience, and increase the frequency and quality of marketing, as well as better engage city partnerships to grow the show. The city has 12,000 residents, but the show attracted 22,000 people in 2018.
"Military and families still get in for free, and we offer discounts if you buy in advance," said Warbeck, who noted proceeds from the event go back into supporting military families on base, making it a win-win.
"We undervalue what we do," said John Cowman, who produces multiple shows including last month's Wings over North Georgia. One of his biggest successes was switching to box-style seating as opposed to bleachers which were expensive and clunky. "People want
to feel special. And those box seats are an upcharge of $10.00, so I'm making so much more revenue. And when I sell all my seats, I just go buy more chairs. I never sell out."
Cowman suggests raising prices when the military jet teams come to town and points out it took him seven years to get prices where he wanted, so there is no better time to start this process than now.
By the way, in case you're feeling fashionable or want to raise eyebrows among your friends at the ICAS welcome reception… this shoe, designed by the same company, is still available online. The asking price? $1,645.00, shipping included.