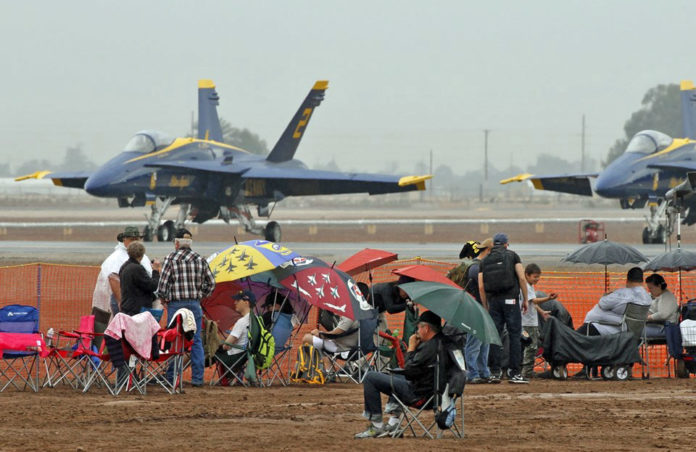 Weather. It's the single most common enemy of air shows. If it isn't the wind, it's the rain. And, if it isn't the rain, it's the wind and the rain and all the other nastiness that Mother Nature throws at us. From one end of the country to the other, just about every air show organizer has faced weather-related challenges, but has almost always figured out a way to survive.
The Thunder in the Valley show in Columbus, Georgia has fought the weather frequently. While they have only had to cancel three show days due to weather in their 21-year history, rain often put a damper on their event and forced them to be smarter about how they did things.
"We developed a business model based on sponsorships and one good weather day at the gates to pay the bills. That way, if we had one good day, our costs were covered and — if we had a second good day — we were assured a profit," said organizer Phaedra Childers. And because they always maintained a reserve to cover their costs, they never considered buying weather insurance.
Their tickets clearly stated that — come rain or shine — they would be open for business, even if it meant modifying the show. And there would be no weather-related refunds. "The only time we wouldn't open would be if conditions posed a risk to our fans," she said.
Thunder in the Valley closed up shop after this year's show, not because of weather, but because of loss of sponsorships. "We were always able to withstand the weather issue because we were smart in our budgeting, but sponsors changed where they wanted to put their money. When we ended our last show, we were able to pay all our bills and — over the life of the show — we gave a lot of money back to the community," she said.
Air show organizer John Cowman of JLC AirShow Management produces several shows in the southeast and has had more than his share of misfortune. "A few years ago, I had back-to-back hurricanes that nearly put me out of business," he said.
In 2016, he had to make the difficult decision to cancel the first day of the Rome, Georgia show when a hurricane stalled off the coast. "Forecasters had told me early in the week that the hurricane would be no threat and we would have warm, sunny conditions. Ticket sales went well, but — by Friday — we knew we were in trouble," he said.
Their decision to cancel the first day was based entirely on safety. "It was an easy call because we didn't want anyone to get hurt," he said. By the second day, the weather had eased and they were able to get the full show in.
"We had spent a lot of money to bring in performers and entertainers, so we weren't willing to offer refunds, but we did allow people with Saturday-only tickets to use them on Sunday. And for those who couldn't come on Sunday, we allowed them to use the tickets the following year," he said.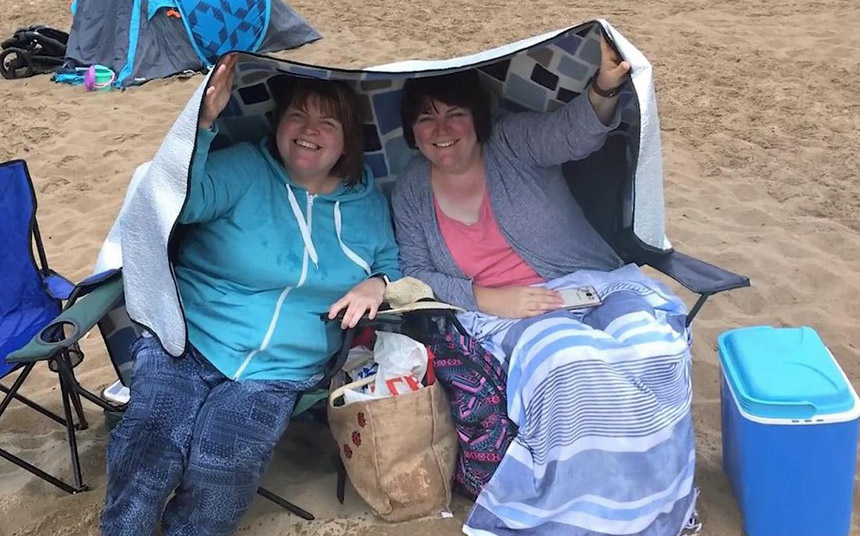 NAS Oceana learned a valuable lesson in 2005, when a sudden storm ripped across the field on Friday night before the show. "We buttoned things up Friday evening and went home, only to get a call at 1:00 a.m. saying that a serious microburst was rolling over the field. Winds had reached 50 miles per hour by the time we reached the operations building," said director Corky Erie. And all they could do was wait for it to subside before they could move onto the field to assess the impact.
Damage was extensive. A total of 60 pop-up tents were destroyed, piled in heaps that looked like dead spiders. A performer's airplane had come loose from its tiedowns and was damaged. And bins of vendor inventory under the tents were broken open and their contents strewn everywhere. "Their merchandise covered the storm drains and we were covered by two feet of water," Erie said. The air show team called in every available volunteer and they went to work. By 8:00 a.m., they had replaced all of the tents, merchandise had been cleaned up, and air show fans never knew there had been bedlam just hours before.
In spite of weather problems, Erie said they have never cancelled a show. "Even in poor weather, we opened the gates so fans could come in, see the static displays, and buy souvenirs and food. And we told our pilots each morning that there was no pressure to fly if they felt it wasn't safe. We accepted their decisions, whether they were civilian or military."
Wings over Houston, a largely warbird event that draws big crowds, has also experienced the aftermath of severe weather. "We are close to the coast, and fronts come through, blowing hard. Sometimes they stall right over the airport," said Bill Roach. He noted that, in 2017, they had winds of 40-50 miles per hour on Sunday morning. "It ripped down fences, destroyed tents and other equipment. Then a hot dog cart got loose and smashed into a C-130 on static display. And, if that weren't enough, a military display fence flew up and smashed into another military aircraft," Roach said.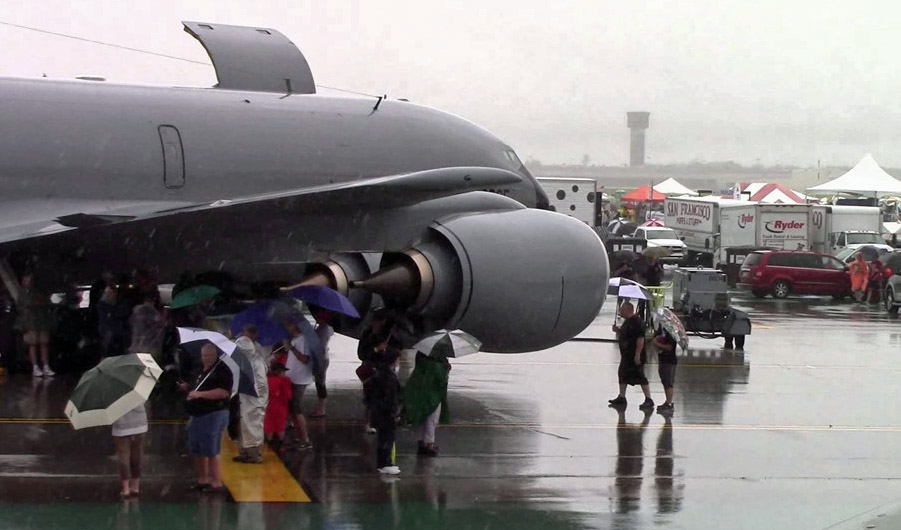 So, because of weather concerns, they created a new command center providing immediate access to weather updates so they can make real-time decisions. "Most Doppler radar is delayed 20 minutes. Now, we have instant information and that is essential to the safety of our show," he said.
On the flip side of the weather issue are the performers and service providers. Most contracts call for payment irrespective of weather if the show is cancelled after they arrive. Dan McLaren of Mach 1 Productions provides sound systems for air shows and recognizes the importance of keeping his system up and running in the face of inclement weather. "We have an all-weather system because the show organizers have to be able to communicate with the audience if something unexpected happens that requires an immediate response," he said.
McClaren's contract requires the show organizer to provide a sturdy tent that can withstand 70 mph winds. "Even in bad weather, we are able to hunker down and maintain our system," he said.
McClaren's speakers are on miniature towers that are well anchored and he has a supply of heavy-duty sandbags, just in case. This served them well when a tornado was approaching one show and the show activated their emergency plan. "Staying operational was essential to getting people off the field and under cover quickly," McClaren said. One adjustment he has made is the use of three weather mobile apps on his smart phone. And when he is in his hotel room, the TV is always tuned to the weather channel.
From another perspective, it is the air show community's vendors who stand to lose the most when a show is canceled because of weather. In most cases, novelty and food concessionaires have to pay in advance for the privilege of selling at a show and must guarantee a percentage of the profits, with no expectation of getting a refund if the show cancels. They pay their own travel and lodging and invest in food and merchandise based on crowd expectations. If the crowd doesn't show up, they are stuck.
"Shows used to void the guarantee if they cancelled due to weather, but not anymore," said Sharon Shortt of San Francisco Puffs and Stuff. "Our business has become very competitive, profit margins are thin and our food is perishable. If we can't sell it, we have to throw much of it out," she said.
Short said a few shows will still forgive the guarantee, but not all. "Military bases are usually the most compassionate in these circumstances, but it depends on the event. Competition has pushed the guarantee higher and there are even some shows that can't get concessionaires to bid because the rate of return is too low," she said.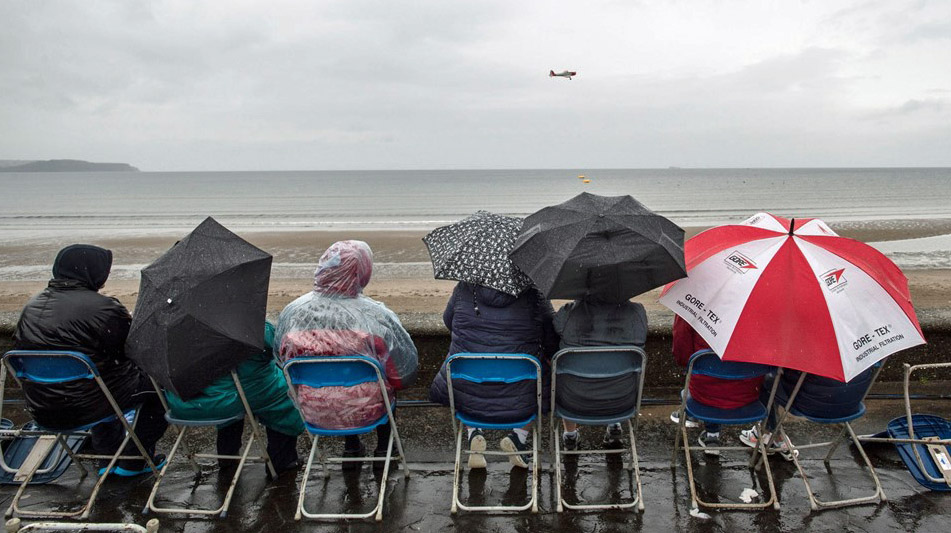 Overall, Short estimated that 40 percent of the events she does have weather problems of one kind or another, which makes her business very challenging.
How does all of this translate to recommendations or suggestions to air show professionals concerned about the possible impact of weather on their shows or businesses?
If there is anything that weather has taught our industry, it's that commitment, resilience and thoughtful planning will almost always save the day.
"A favorite axiom among ICAS members is that, 'Hope is not a plan,' and that is particularly true in matters related to weather," says ICAS President John Cudahy. "We are in the outdoor entertainment business. Eventually, anybody involved in air shows will experience the challenges brought by rain or wind or brutal heat. It's very nearly inevitable. The question then becomes, 'Are you prepared for the inevitability of bad weather? Have you made plans – financially, operationally, in your policies – that anticipate different weather scenarios and allow you to move forward despite Mother Nature?'"