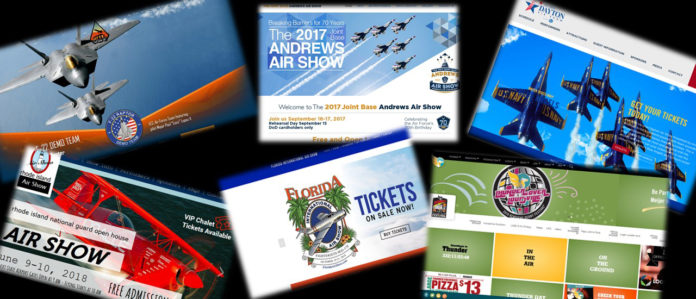 Many of us have heard the familiar refrain, "We just don't have the resources," with the word "resources" typically referring to an air show organization's time, budget, personnel, or all of the above. With a large number of shows relying heavily on the power of volunteers, a finite amount of sponsorship dollars or a modest contribution from a municipal government, employing and paying a full-time human marketer or salesperson just isn't in the budget. Yet.
Who says those roles have to be filled by humans in this age of rampant technology? Your website can be your best marketer and salesperson. Is yours?
We can all agree that having a web presence is necessary. But, it's not enough anymore to simply have a website. Today, consumers expect your business to have at least a website, and most will want to see and browse your site way before ever stepping foot through your gates and onto the ramp. In many ways, having an up-to-date, user-friendly website legitimizes an organization and tells the user, "Okay, this organization is real, this event is happening, I want to find out more." That's the old, passive World Wide Web. Build it, and they will eventually find you.
There's a great scene in the movie Glengarry Glen Ross when Alec Baldwin's character, Blake, gives an impassioned speech about making the sale. He uses the acronym A.B.C., which stands for Always Be Closing. In no uncertain terms, he makes it clear that closing is the essence of sales: "We're adding a little something to this month's sales contest. As you all know, first prize is a Cadillac El Dorado. Anybody want to see second prize? Second prize is a set of steak knives. Third prize is you're fired." It's in this scene we also learn another valuable lesson in sales: "A guy don't walk on the lot lest he wants to buy. They're sitting out there waiting to give you their money. Are you gonna take it?"
A.B.C. is taught to many just starting off in sales. Left untrained, new salespeople present all the benefits (i.e. it'll save you time, it'll save you money, etc.) of a product or service, but miss one crucial step: actually asking for the order. On websites for organizations with something to sell — like tickets — it's a missing "call to action" that turns a website from a valuable virtual closer to an expensive static online brochure.
More than Just an Image on the Screen
For once-a-year events like air shows, the philosophy and practicality of websites and their function have to be much, much different; they need to work for you to attract potential spectators and convert those online visitors into either physical visits and purchases at the gate or online ticket sales. In short, you don't need a website; you need an e-commerce site. Remember, "A guy don't walk on the lot lest he wants to buy."
"Websites are crucial tools we use to communicate to our general audience, partners and potential partners," said Kerry Ward, who heads up logistics, marketing and public relations for AirSupport LLC. "How are you going to grab someone's attention in less than five seconds and convince them to scroll or click for further content, or more importantly, make a purchasing decision?"
Air show organizations need their websites to accomplish a purpose beyond presence. But not all websites are created equal. Air show websites have to be purpose-built to serve as the hub of all your digital marketing, sales and communications efforts. They need to do several things well. They need to be not good, but very good, at selling tickets. They need to provide prospective spectators with all the information they need to decide if they are coming to your show, and then, all the information that they'll be looking for once they decide to go to your show. They need to offer visibility and recognition to your sponsors. And, they need to communicate the excitement of air shows and drive those prospects into actual spectators.
"At the Los Angeles County Air Show (LACAS), for example, our whole branding effort starts with the website," said Karen Strong, who runs her own public relations and marketing shop and consults for LACAS, as well as the California Capital Air Show. "We drive everybody to the website. We don't sell tickets anywhere else but online or at the gate. And as soon as the show is over, we start changing over for the next year, thanking our sponsors, and promoting upcoming performances."
Ward agrees. "You see it a lot. The show is over and the website goes quiet. It's a missed opportunity. When the air show ends, don't stop managing the website. Websites should be dynamic and constantly updated with new content before, during and after the show. After the show could be an extra opportunity to thank sponsors, volunteers, and provide information about the next show or photos and video to create lasting memories."
That makes sense. Is it easier to push a boulder after it has stopped rolling, or just to keep it rolling?
Maybe you've spent some precious budget dollars on radio advertising, a billboard or a newspaper insert. No doubt, at the bottom of the script or print ad, you've added, "Go to www.[MyAirShow].com for more information." But then what? You've piqued their interest. Once potential spectators get to your website, what value do you offer? How do you keep them engaged and on your site? And how easily do you convert them into ticket buyers?
"One thing I like to keep in mind is how the site answers the 5 W's – what, when, where, who, and why," Ward said. "Have compelling content that answers people's questions before they ask; and all of this needs to be presented in a user-friendly, easy-to-navigate site. The focus should clearly display that the event is going to be action packed, historical, family friendly, an educational experience and drive them to act."
Mobile Moving Ahead
Here's a twist: is your website mobile friendly? "In the age of iPhones, your site needs to be mobile and tablet friendly with social buttons to help grow your brand awareness and generate fresh content on your site," Ward said.
Strong added, "If your website isn't mobile friendly, you're probably missing an entire segment of potential ticket buyers and spectators."
Research indicates they're right, as there's a nearly 50 percent chance a person who saw or heard your ad didn't take the time to go home and fire up their desktop to look you up. Rather, they looked you up on their smartphone. In the U.S. alone, 64 percent of Americans now own a smartphone, up from 58 percent in early 2014, according to The Pew Research Center.
According to a February 2015 study by IBM, mobile traffic accounted for 46.5 percent of all online traffic, up 26.5 percent compared to the same period in 2014. Mobile sales were considered strong at 23.2 percent of all online sales, up 35.3 percent over 2014. And Oracle Systems, in March of 2015, released a report that studied trends in mobile ticket sales and predicted that mobile commerce would reach $41 billion by the end of 2015…almost a 70 percent increase from 2012. As your patrons begin to use their mobile devices more frequently for other types of purchases, the mobile ticketing industry (and the demand for mobile ticket buying options) will scale accordingly.
Going mobile, if you believe the numbers from those two reputable technology companies, will open the proverbial gate just like on show day. Use air show spectator trends that we know to be true to increase mobile ticket sales. Demographics more likely to be patrons of air shows, such as the college educated and those households making more than $75,000, are also more likely to own smartphones and, therefore, more likely to purchase tickets on mobile devices. What would happen if your air show's ticket sales increased 35 percent over the previous year?
Developing for the Future
So, the question is, does the premise under which you initially developed your website stand up, or should it be revisited?
In the early days, being present and looking pretty was enough. Today, clearly we have to think differently. It's not enough to simply get people to your website, whether on a desktop or on a mobile device. Keeping them engaged and getting them to return to your website is critical to converting casual browsers into ticket buyers.
Making certain that your ticketing system and website are compatible, and that the server on which the website is located can handle traffic surges leading up to promotional events and the actual show dates are critical pieces of the website puzzle. But what else factors in?
"When your organization is developing a new website, be sure to ask your developer what content management system they use," said Strong. "You want an easy-to-use platform like WordPress, Joomla or Drupal, so the site is easy to update on the back end for air show staff and you can make changes in real-time without involving the developer or service provider."
Ward reminds shows developing new sites to be practical and use the tools at your disposal. "Don't underestimate the importance of simple, strong, and easy-to-navigate. Incorporate a search bar…a terrific tool for the ever-diminishing attention span of the general population. We want our answers quickly and concisely."
Stay Human
With all this talk of technology, content management platforms, mobile capability and e-commerce, websites can still offer a human touch. "We encourage website visitors to go to our contact tab," Strong said. "Anyone who submits a comment or question will get a response within an hour. On show days, there's a dedicated person responding and answering questions in real-time."
Ward says to ask what others think and tends to gravitate towards test groups. She suggests showing your site to a number of people within and outside of the air show community. Get their first impressions and have them double and triple check for any errors or confusing information and how user friendly the site is. Continuously test, measure, and maintain.
Both Strong and Ward agree: air show and aviation enthusiasts will come to air shows no matter what. So, when developing your website, ask yourself: 'how are you going to attract the next generation, or your neighbor, or the 35-year-old mother with two kids, or the teenager playing video games?' Give your target audience a name and a face, and figure out what will make them click "Buy Tickets."
Put the C in A.B.C.
Just like a top salesperson, your website can turn into a master closer. Optimize the many different ways in which you can attract a potential spectator and how they can make a purchase. Make sure your website and ticket buying experience is as seamless on a smartphone as it is on a desktop or at a ticket window. If you've gone mobile, offer features for mobile-inclined patrons. Offer incentives for those who buy tickets via mobile devices (discounts, being entered to win drawings, etc.), and get their feedback about their mobile ticket experience via a form or simple checkbox on the purchase page. A few budget dollars combined with some critical thought about the general public's purchasing habits could be the difference between winning a set of steak knives or the Cadillac El Dorado.