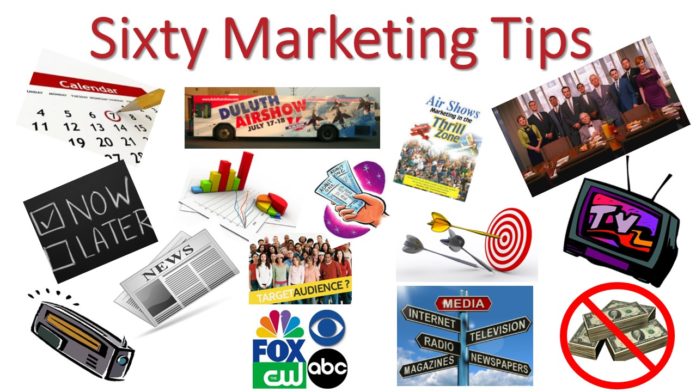 As you think about making adjustments or adding to your marketing plan, consider some of these useful, real-world tips from ICAS members on the front lines to fill in any gaps you may have. These marketing tips were presented at the 2015 ICAS Convention during the "60 Marketing Tips in 60 Minutes" education session. The panel consisted of:
Ryan Kunkel, Red Frog Events
Herb Gillen, Herb Gillen Advertising
Kim Dell, Cleveland National Air Show
Ryan Kern, Duluth Airshow/Kernz & Kompany
Brenda Kerfoot, Sean D. Tucker – Aviation Specialties
Track everything and then use that information to promote your event. Survey your attendees. Document their demographics, psychographics, buying behavior and other quantifiable information. Listen to and track consumer feedback. Then use all of that information to create your marketing strategy and plan.
Spend a couple of days early in the marketing cycle meeting with local media to discuss the show. Meet with both sides of the house (news directors/editors and media sales directors). Discuss opportunities and expectations for involvement.
Develop monthly reports for promotions so you can track your progress compared to previous years. Then, after the show, the report can be used for sponsorship proof-of-performance summaries.                                                                       
Identify your audience before committing to a marketing plan. As an example, if you're doing a WWII-themed show with all aircraft of that vintage, who is most likely to attend? Target that audience!
Have an established press release schedule leading up to your event beginning the day after your show concludes with your dates for the next year and jet team, if known. For example if you have a summer show: A winter press conference in January with act additions, one in March with additions, one in April announcing flyovers and special static displays, one in May with special displays (e.g. NASA), advance general ticket sales outlet date, then in June one every week leading up to show with items such as local pilot connections, activities for kids and families, what to bring and what not to bring, any special VIP's attending or participating, etc.
Know where conversions, impressions, and clicks are coming from on your digital assets. Be able to make instant changes to your strategy, tactics, messages or target audiences to get the best Return On Investment. What worked yesterday may not be what works tomorrow. Keep an eye on it and adjust.
Offer several levels of premium seating with increasingly higher price points and amenities. Promote these as limited inventory. Continue to promote these to general admission ticket purchasers as an upgrade opportunity.
Before you spend money on radio, approach outlets for non-cash agreements. The air show provides promotional benefits including on-air ticket giveaways, contests, promo spots, mentions and larger cross-promotions. In exchange, stations provide radio website exposure including e-mail blasts, online contests, internet streaming commercial spots and website banner ads. And, even if you do end up spending money, be sure to leverage that spending by combining cash with promotional considerations to get as much time and space as possible.
There is not necessarily a bad form of media. Saturation is always the key. But, be smart when choosing what media to use with your limited budget.
Have a well-developed show week media plan which would include rides, live on-site news programs and interviews, along with the practice show. Ideally, something media related would occur each day leading up to the show weekend.
Work to extract editorial value out of advertising outlets. While outlets can't guarantee press coverage, it can be beneficial to ask for an introduction to their editor or producer (if a mainstream press outlet) and at least offer up an interview or free passes for a reporter or editor to attend.
Use your air show inventory (tickets – hospitality, on-site marketing opportunities, promotional tie-ins, third party partnerships) to create media trade opportunities and extend your budget. Any media with which you spend money should be willing to do some bonus or trade.
Leverage the popularity and name recognition of the jet teams if they're coming to your show. Plan a press conference and/or news release for a jet team's winter visit.
Use every opportunity to generate stories in which the media will be interested. It's free advertising and, if the story is well thought out enough, it might be on the front page and you can't buy that type of advertising.
Develop a high-end brochure to sell your VIP areas. Distribute through a mass-mailing to key businesses within 75-miles of your show (you can purchase business databases relatively cheaply…look at Chamber mailing lists, etc.) Also, have them inserted in business journal or business-type newspapers.
Tell stories to inspire and connect people with your brand and event. People want to feel an emotional connection to the brand and, by highlighting people behind the scenes, attendees with a unique story, or a historical element, this will heighten people's ability to recall your brand.
Launch your website for your upcoming show and start selling tickets at Thanksgiving in order to spur holiday sales. Use "Early Bird" discounts that provide the deepest discounted rate.
Promote your show and/or provide coupons via tray liners at a fast food chain or on pizza delivery boxes.
Partner up with marketing savvy businesses in your community! Tie into to something they are doing.
Brochures are still valuable, but probably not in the quantities that you once produced. Make sure you have a distribution network such as your beverage provider outlets (e.g. Coke or Budweiser) AAA, Highway Travel Centers, airport terminal, and more. These can also be inserted into a newspaper.
Encourage instant gratification. Always provide an immediate call-to-action. In the digital age, things move so fast, and you can quickly become out of sight, out of mind.
If you offer free tickets for promotional purposes or deeply discounted tickets for any reason, be sure to use only those tickets you are sure not to sell out of.
Small budget? Approach a TV station for a part cash/part trade arrangement to produce your air show commercials.
When building sponsorship and partnership materials, use them as a template, but be willing to be flexible. Bend; don't break.
Look for companies/organizations that you partner with to give you a billboard location for a month or two. Most of them hold yearly contracts and would be happy to offer. In the past, I have had the airport, Convention Visitors Bureau offer the space and an aviation nonprofit offer to partner (we just had to include their logo). (Kerfoot)
Include fun and unique photo opportunities at the event with hashtags and social sharing call-to-actions. Instagram and social sharing sites are at a peak, and it's important to drive as much branding as possible in the photos being posted to attendees' networks.
Use contests throughout the year, especially during slow sales periods earlier in the sales cycle, to spur ticket sales.
Target local family attractions for air show cross-promotions and contests.
Don't overlook independent magazines, real estate viewers, and any local free publications. Partner with them for tickets and have them feature your event on the cover with a small story inside.
Opinions vary, but weigh them carefully before signing any media partner exclusive deals. Everyone should get to participate in promoting and reporting on your event.
Don't put a message out there just to put one out there. Be relevant and make an impact when you reach your audience. Knowing when not to send or post is just as important as knowing when to do it.
If you haven't already, transition your money into digital advertising. You may still be buying from your local newspaper and TV stations, but a healthy portion of your ad budget should go toward their digital products.
Ensure that your website is compatible on mobile devices. Mobile digital media time in the U.S. is now significantly higher at 51 percent, compared to desktop at 42 percent.
Think about "value" when marketing your tickets with promotions. Offer a 'FREE KIDS ticket with purchase of an adult ticket' promotion. There is perceived value in that. Also, don't be afraid to give away free kids tickets as part of any marketing campaign. As long as they get into the hands of children, they will want to go, and mom and dad will have to buy a ticket themselves.
Partner with key suppliers to develop marketing campaigns (e.g. Coke end-cap displays, contests, commemorative can, etc.)
Create shareable content like Top 10 lists of must-do's, videos, unique photos, and more.
Your website is your strongest marketing tool, so build your website with specific objectives in mind. If your goal is to sell a lot of tickets, make sure that you build your site with that in mind. Make the purchase ticket button large and noticeable and have it in the upper left hand corner on every page. Make the ticketing page very user friendly. In most cases, your site should have a ticketing page and then link it to your ticketing vendor. It's important to keep in mind that more than about two out of three people who access your website aren't doing it from a desktop computer. They are using their mobile device or a tablet. Make sure you are using responsive design and that your site renders well to achieve your goals on all devices.
Small budget? Try a Facebook ad. Adjust the demographics to match the ICAS survey results. Real world example: A $300 Facebook ad for the Cleveland National Air Show ran for two weeks which reached 48,000 people and generated 729 website clicks.
Identify ways to run ticket promotions with local businesses, and make sure they are able to not only buy tickets, but also find out how they are going to spread the message. Work with your local utilities company. They have the monopoly and are already sending information to all of the homes in the region; get a flyer in that mailing with an "exclusive promotion."
Build your sponsor agreements with marketing partnerships; this would be critical for any advance ticket outlets. For example, Kroger provided its own marketing plan for sales of the Dayton Air Show's general advance tickets, and included large television and radio buy as well as in-store posters. Other sponsors can provide web ads, bill stuffers, co-brand print ads, and more.
Videos, videos, videos! Try to educate, entertain, or inspire, when possible.
Build a strong customer email list and use it frequently to promote ticket sales.
Use Constant Contact or Mail Chimp to build a fan database via your website. Then send out timely e-newsletters.
Partner with an advertising agency! They have connections, resources and the ability to negotiate on your behalf, including a list of clients who also might also sponsor your event.
Use social media, but like your website, it needs to be relevant, current and engaging. Tie your press release announcements into social media and consider contests.
Run contests where participants need to share on social media in order to enter and win. Feature the winners and make them feel special with a call out on your social page.
Build a social media following and use social media to strengthen your brand. Understand that, in most instances, you really have to pay to get a meaningful audience for your message.
Create a content calendar for social media, press releases, e-newsletters, and other communications tactics with two touches per week.
Look to build a series of cross-promotions that can feed off of each other and have ancillary benefits.
Select performers who are professional, media savvy, are able to provide solid media kit as soon as you hire them and are able to present themselves well to the media. Bonus if they can offer the media a ride or a ride in a chase plane for air to air shots. Performers should also be able to provide compelling video footage of the ride immediately following.
If you're not already, determine how to have a philanthropic tie to your event. People want to know there is a greater cause being supported if the event is for-profit.
If possible, conduct all of your advance ticket sales online. This allows better integration of the digital marketing vehicles you should be using. It also allows for better tracking of your advertising and allows that advertising to adjust in real time. Most importantly, it allows you to collect contact information about your customers and continue to market to them this year and in the future.
Develop a "stay-cation" giveaway for a media outlet such as offering air show tickets, hotel room, limo ride, and whatever else is feasible.
Don't be afraid to try new ideas! Have you considered bus boards, bus wraps, can panels, soda neck hangers, soda box stickers, or anything new or different?
Hit the lunch and dinner circuit. Let all community organizations such as the Rotary, Optimist, Lion's Club and others know that you are available for presentations about your show. These are also great audiences for potential sponsorships, high-end seating options, or VIP chalets.
Train each employee working on your event with key messaging. Every person is the face of your brand and event and they should all feel responsible and empowered to continually drive a positive brand message.
Be sure that you have a very competent, marketing-focused, social media-savvy person managing your social media. Most importantly, make sure they know aviation and air shows. Be sure that the person is well informed about what is going on with the air show. Choosing one of your board members' college-aged daughters to run your social media just because she lives on Twitter and she doesn't cost anything might not be the best choice.
Use the information available from the ICAS Spectator Survey. It represents 30 years of reliable, consistent data with information about the demographic profile of air show audiences, what attracts them to air shows and those aspects of our industry that they think need improvement. Think of it as a crib sheet for your show's marketing efforts.
Make it easy to buy tickets on your website. There's a 'not-more-than-three-click' rule of thumb that reflects consumer impatience and short attention span. Spend the time and resources required to streamline this aspect of your operation. Check out other events. Invite friends and colleagues to beta test your current process. Small improvements have the potential to significantly improve your customer's ticket buying experience.
Posters are great as framed sponsor or key community member gifts, but should not be used as a marketing tool. They are difficult to get distributed (many businesses have strict rules regarding poster display) and they don't deliver a cost efficient bang for your buck.